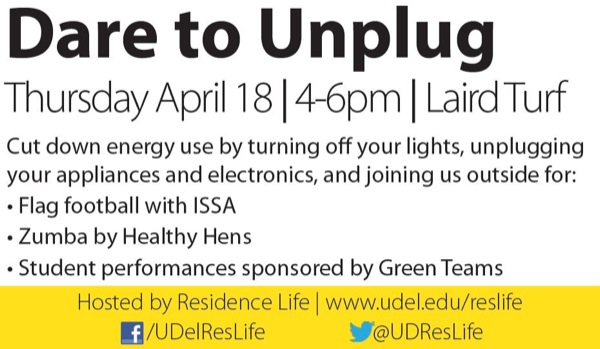 April 18: 'Dare to Unplug'
Earth Week Committee, Residence Life ask campus to unplug for two hours
2:57 p.m., April 15, 2013--The University of Delaware Earth Week Committee and the Office of Residence Life are encouraging members of the campus community to turn off their lights and unplug their electronics and appliances during a two-hour "Dare to Unplug" event on Thursday, April 18.
Special Dare to Unplug programming will be offered from 4-6 p.m., Thursday, on the Laird Campus artificial turf.
June 6: UDid It! Picnic
All UD faculty and staff members are invited to attend the annual UDid It! employee appreciation picnic, set from 11 a.m.-1:30 p.m., Monday, June 6, on The Green.
2FA protects you
If you are using two-factor authentication (2FA), even if a hacker has your password, your information is probably safe.
Dare to Unplug is designed to help members of the campus community become more aware of the importance of reducing energy use while also providing an exciting and engaging line-up of activities through which to enjoy the spring weather.
Throughout the two-hour timeframe, the Independence South Student Association will sponsor a touch football tournament, entertainment will be coordinated by Green Teams, Healthy Hens will provide an hour of Zumba, and the Newark Bike Project will offer bicycle tune-ups.
The Dare to Unplug organizing committee will be using Blue Henergy to monitor real-time energy use throughout Laird Campus and will report results on the group's efforts to reduce usage for the two hour time period.
For more information about Dare to Unplug and other Earth Week 2013 events, see the website.