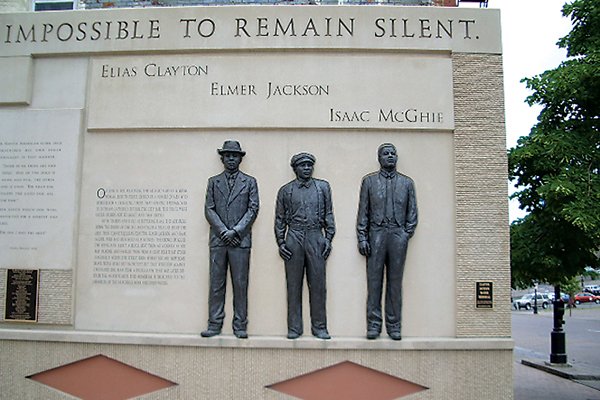 Summer scholars
CAS program will support 12 doctoral students this year
11:28 a.m., April 22, 2013--Twelve doctoral students, working on a wide range of dissertation topics and in a variety of departments in the University of Delaware's College of Arts and Sciences, have been selected for the college's second annual Dean's Doctoral Student Summer Scholars program.
Offered with support from UD's Office of Graduate and Professional Education, the competitive program will provide each recipient with a 10-week, $4,500 summer dissertation research and writing grant.
From graduates, faculty
As it neared time for the processional to open the University of Delaware Commencement ceremonies, graduating students and faculty members shared their feelings about what the event means to them.
Doctoral hooding
It was a day of triumph, cheers and collective relief as more than 160 students from 21 nations participated in the University of Delaware's Doctoral Hooding Convocation held Friday morning on The Green.
The goal is to enable advanced CAS doctoral students to enhance their scholarship and field-based study, support their data collection and analysis and allow them to focus on dissertation writing. The 12 finalists were chosen from 21 applications.
Because the program requires recipients to be committed to public engagement and outreach, they will be asked to share their dissertation research with public audiences during the academic year following the summer award and to participate in a public engagement workshop in the fall.
Applicants submitted information about their research, along with a work plan and a recommendation from a faculty adviser or department or program chair, to Joann Browning, the college's interim deputy dean, for review by a faculty committee.
"This competitive grant program, founded last year by former Associate Dean for Graduate Education Debra Hess Norris, continues to forward the College of Arts and Sciences' 'Leading the Way' strategic plan and our goal of strengthening graduate education and enhancing support for graduate students as they advance toward the completion of their degrees," Browning said. "We were pleased to be able to increase the number of awards this year from 10 to 12, and we look forward to the students' engaging and inspiring final progress reports next fall."
These are the recipients:
Katrina Anderson, Department of History, will focus exclusively on the lives and travel of free women of African descent within the British Atlantic World between 1770 and 1865. This summer she will conduct archival research at the Massachusetts Historical Society and the Historical Society of Pennsylvania to complete a large component of her research that focuses on the urban north. Her faculty sponsor is Erica Armstrong Dunbar, associate professor of Black American Studies and of history.
Angeliki Athanasopoulou, Department of Linguistics and Cognitive Science, is studying the acquisition of prosodic patterns, an important part of language that allows us to speak grammatically and communicate properly, providing information about emotions, opinions, etc. She will test how children of two different languages (English and Greek) perceive and produce those patterns at different ages (5, 8 and 12 years) as part of a broader goal to understand how children develop the full sound systems of their languages. Her faculty sponsor is Irene Vogel, professor.
La Tanya Autry, Department of Art History, will analyze how diverse communities in the U.S. memorialize the history of lynching in the built environment via sculptural monuments, historical markers and "living memorial" performances. This summer she will do field-based study in Georgia and Alabama. Her faculty sponsor is Camara Dia Holloway, assistant professor.
Melissa Blair, Doctoral Program in Preservation Studies, is conducting interdisciplinary research to reveal the significance of 18th- and 19th-century domestic outbuildings in central Maryland and consider issues related to their preservation. This summer she will conduct intensive architectural investigations of several farms, including conversations where possible with the current farm occupants regarding their use of the buildings and any historical information they have about the structures. Her faculty sponsor is Joyce Hill Stoner, Edward F. and Elizabeth Goodman Rosenberg Professor of Material Culture.
Christopher Bouton, Department of History, plans to conduct primary documents research of legal and church records in Louisiana and Mississippi for evidence of physical confrontations between slaves and whites in the antebellum South. He will travel to the Mississippi Department of Archives and History in Jackson and the Earl K. Long Library at the University of New Orleans, where antebellum legal and church records are housed. His faculty sponsor is Peter Kolchin, Henry Clay Reed Professor of History.
John Brent, Department of Sociology and Criminal Justice, is examining how the punitive practices and policies driving contemporary school discipline work on, and are (re)shaped by, youths' displays of culture. In addition to writing dissertation chapters and completing a journal article, he will be developing a public bulletin report, which will provide research and evidenced-based information that can inform practice and policy addressing contemporary issues of youth and school discipline. His faculty sponsor is Aaron Kupchik, associate professor.
Rachel Garcia, Department of Political Science and International Relations, is investigating the various anti-poverty/anti-inequality policies implemented by right-wing and left-wing governing regimes in Latin America, in order to better understand if political ideology plays an important role in the ways in which poverty and inequality are being attenuated. This summer she will work on an initial case study in Colombia. Her faculty sponsor is Julio F. Carrión, associate professor.
Jordan Leitner, Department of Psychology, is conducting research that addresses compelling questions regarding the roots of self-esteem. His dissertation will describe a new theory of self-esteem enhancement, as well as three studies that examine the underlying motivations, facilitating conditions and neuro-cognitive mechanisms of this regulatory system. His faculty sponsor is James M. Jones, professor.
Kimberly Nath, Department of History, is focusing on the process of citizenship building in the period of the American Revolution into the new republic. Highlighting this process is the identification and confiscation of loyalist property and the subsequent reintegration in the Mid-Atlantic. Her faculty sponsor is Cathy Matson, professor.
Chiedo Nwankwor, Department of Political Science and International Relations, is conducting a case study of South Africa that investigates whether women cabinet ministers in sub-Saharan Africa further women's interests through their policy agendas, as well as inspire women to participate more in politics. She will interview 26 women cabinet ministers in South Africa and gather data from local archives and libraries. Her faculty sponsor is Gretchen Bauer, professor.
Inci Ruzybayev, Department of Physics and Astronomy, is researching methods for producing hydrogen gas that are environmentally friendly and utilize the sustainable, renewable and cleaner energy source of sunlight. Hydrogen is one of the energy sources with the potential for replacing fossil fuels, a key to addressing climate change. Her faculty sponsor is S. Ismat Shah, professor of materials science and engineering and of physics and astronomy.
Fangyuan Tian, Department of Chemistry and Biochemistry, is researching the fundamental technology of semiconductor materials, which have been playing an important role in modern technology for half a century in the fields of electronics, sustainable energy and bio-sensors. Her dissertation, titled "Modification of Semiconductor Surfaces with Organic Molecules by Wet-Chemistry Approaches," will look at this fundamental technology to design efficient chemical processes for surface functionalization. Her faculty sponsor is Andrew V. Teplyakov, professor. 
Photo courtesy of La Tanya Autry