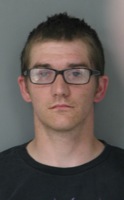 Hit and run arrest
Newark Police arrest man in 2012 fatal collision
12:35 p.m., April 18, 2013--Newark Police have arrested Ryan Wroten, 26, of Newark, in connection with the 2012 fatal hit and run collision on Library Avenue that killed Helen Yang, 76.
At the time of the collision, Yang was crossing Library Avenue westbound in front of the Newark Free Library when she was struck and killed by a southbound vehicle, which failed to stop at the scene. 
Newark Police traffic unit investigators located and collected vehicle parts at the scene that were believed to be from the striking vehicle. In early July, investigators received information that Wroten may have been involved in the collision. They located his vehicle, a 2000 four-door Honda Accord, at his residence and found damage consistent with the collision. The vehicle was seized, and collected evidence was sent to the FBI Crime Lab in Quantico, Va., where forensic analysis linked it to the collision. 
Police arrested Wroten at his residence April 17 and charged him with leaving the scene of a collision causing death. He was arraigned at JP Court #2 and released after posting $1,000 secured bail.