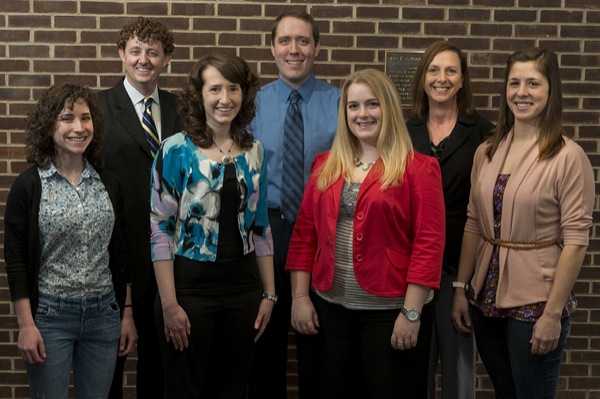 Musical imprint
Music education faculty, students to present at national music conference
6 p.m., April 3, 2013--Several members of the University of Delaware Department of Music will participate in a conference for music educators to share research, host workshops and perform.
 UD will be well represented at the National Association for Music Education (NAfME) Eastern Division conference, to be held April 4-7 in Hartford, Conn.  Four faculty members, two graduate students, two undergraduate researchers and a UD choral ensemble will all be a part of the national conference. 
From graduates, faculty
As it neared time for the processional to open the University of Delaware Commencement ceremonies, graduating students and faculty members shared their feelings about what the event means to them.
Doctoral hooding
It was a day of triumph, cheers and collective relief as more than 160 students from 21 nations participated in the University of Delaware's Doctoral Hooding Convocation held Friday morning on The Green.
The conference provides a forum for music students, educators, researchers and practitioners to share ideas about the advancement of music education.
Suzanne Burton, associate professor of music education, and undergraduate researchers Jenna Knaster and Maria Knieste will present a poster detailing research on policy awareness among pre-service music teachers. 
Burton noted that the variety of participants from the music department actively participating in the conference reflects highly on the UD program.
"In terms of research and scholarly output, it puts us at the forefront as a department that's at the cutting edge of music education research," she said. 
Graduate students Hannah Fraser and Christine Hadfield will each present their research at the NAfME Eastern Division conference. 
"I've always gone to these conferences as a student and now it's nice to come full circle to be presenting," said Fraser, a second year graduate student in the music program. 
Fraser will share a paper and poster examining the motivations and instructional preferences of high school guitar students.
"Specifically, I looked at why students take guitar class, how they want to be taught in guitar class and if how they are taught inside a classroom affects how they make music outside of the classroom," said Fraser. 
The NAfME conference provides students with an opportunity to showcase their work in expert company.
"Our students are presenting alongside seasoned professionals," said Burton. 
In addition to presenting research, Burton and two other UD faculty members, Alden Snell and Chad Nicholson, will teach practitioner clinics at the conference. 
Snell, assistant professor of music education, worked with several experts from the Society for Music Teacher Education to create a Professional Development eKit.
The eKit is a collection of documents containing effective professional development tips for public school music teachers. 
"The Professional Development eKit took nearly a year and a half to pull together," said Snell. ""We're doing everything we can to publicize it and present our research at various conferences."
In addition to presenting research and conducting clinics, Blue Hens will also be singing at the NAfME Eastern Division conference. The University Singers will perform a 25-minute set during the weekend. 
The University Singers is an all-female select choral ensemble conducted by Duane Cottrell, assistant professor of choral music education.
"Preparing for a conference like this means we have to delve a little bit deeper and work a little harder on the music," said Cottrell. "This is like going to a tournament for a basketball team. This is a big deal for us."
Cottrell believes that UD's diverse representation at the conference will be beneficial. 
"The big thing about this is exposure at a highly recognizable conference," he said. "There will be music educators from around the East Coast and it will reflect highly on the University and the music department."
Snell agrees with his colleague.
"Conference attendees will notice UD throughout the conference," he said. "Anybody who glances through the conference brochure will see the University of Delaware multiple times." 
 Article by Kelley Bregenzer
Photo by Kathy Atkinson