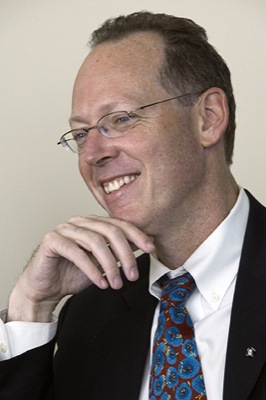 Commencement address
Global humanitarian Paul Farmer to speak at UD's 164th Commencement May 25
1:33 p.m., April 4, 2013--Dr. Paul Farmer, a medical anthropologist and physician who has dedicated his life to improving health care for the world's poorest people, will speak at the University of Delaware's Spring Commencement, scheduled at 9 a.m., Saturday, May 25, in Delaware Stadium on the Newark campus. 
Commencement is an outdoor ceremony, held rain or shine, and is open to the public.  
From graduates, faculty
As it neared time for the processional to open the University of Delaware Commencement ceremonies, graduating students and faculty members shared their feelings about what the event means to them.
Doctoral hooding
It was a day of triumph, cheers and collective relief as more than 160 students from 21 nations participated in the University of Delaware's Doctoral Hooding Convocation held Friday morning on The Green.
"Dr. Paul Farmer is the perfect example of the difference one person can make in the world. This internationally recognized humanitarian and his colleagues have pioneered community-based solutions to delivering health care to those who need it most," said Jeffrey Garland, vice president and University secretary. 
"One of the guiding principles of the University's Path to Prominence is to engage our students, faculty, staff and alumni in the most compelling challenges of our times by addressing such important matters as social justice and the alleviation of human suffering," he said. "The work of Dr. Farmer is an inspiration to us all, and I can think of no one better to speak to our newest graduates as they celebrate their achievements at this University and prepare to take the next step in their lives."
Farmer is a founding director of Partners in Health (PIH), an international nonprofit organization that, since 1987, has provided direct health care services and undertaken research and advocacy activities on behalf of those who are sick and living in poverty. 
Farmer's work in Haiti and elsewhere has been chronicled in Tracy Kidder's best-selling book, Mountains Beyond Mountains: The Quest of Dr. Paul Farmer, A Man Who Would Cure the World, and he also plays a key role in Kidder's subsequent book Strength in What Remains, which was UD's 2010 First Year Common Reader. 
In 1983, while he was still a student, Farmer began a lifelong commitment to Haiti, working with dispossessed farmers in Haiti's Central Plateau. Starting with a one-building clinic in the village of Cange, Partners in Health's project in Haiti has grown to a multi-service health complex that includes a primary school, an infirmary, a surgery wing, a training program for health outreach workers, a 104-bed hospital, a women's clinic and a pediatric care facility.
Over the past 20 years, PIH has expanded operations to 12 sites throughout Haiti and 12 additional countries around the world. The work has become a model for health care for poor communities worldwide. 
Farmer holds an M.D. and Ph.D. from Harvard University, where he is the Kolokotrones University Professor and Chair of the Department of Global Health and Social Medicine at Harvard Medical School. He also is the chief of the Division of Global Health Equity at Brigham and Women's Hospital in Boston and serves as United Nations deputy special envoy for Haiti, under Special Envoy Bill Clinton. 
He has written extensively on health, human rights and the consequences of social inequality. In addition to his recent book, Haiti After the Earthquake, he is the author of Partner to the Poor: A Paul Farmer Reader; Pathologies of Power: Health, Human Rights and the New War on the Poor; The Uses of Haiti; Infections and Inequalities: The Modern Plagues; and AIDS and Accusation: Haiti and the Geography of Blame. 
Among his many honors are a John D. and Catherine T. MacArthur Foundation Fellowship, the Margaret Mead Award from the American Anthropological Association and the Outstanding International Physician Award from the American Medical Association. In 2005, he and his colleagues at PIH received the Hilton Humanitarian Prize, the world's largest humanitarian award.
Farmer is a member of the Institute of Medicine of the National Academy of Sciences and the American Academy of Arts and Sciences. 
Commencement information
Details about the University's 164th Commencement are available on a special UD website.