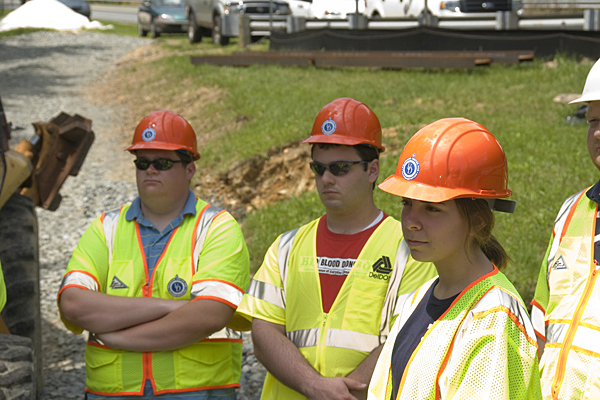 Water, water everywhere
Delaware's Water Quest Scavenger Hunt kicks off Oct. 7
8:21 a.m., Sept. 28, 2011--Rachael Vaicunas knows a good bit about water resources in the First State. After all, she's a University of Delaware grad student in bioresources engineering, studying such topics as watershed management, bioremediation and non-point pollution.
But Vaicunas says she learned a lot from a Water Quest Scavenger Hunt last fall – like the fact that an inflatable dam in the White Clay Creek, 10 miles downstream from Newark, helps prevent tidal flow of salt water into a nearby water treatment plant. She also picked up some purely fun facts, including that Sambo's Tavern in Leipisc has been serving up Delaware crabs for more than 50 years. Vaicunas competed in the hunt with three other UD grad students.
'Resilience Engineering'
The University of Delaware's Nii Attoh-Okine recently published a new book with Cambridge University Press, "Resilience Engineering: Models and Analysis."
Reviresco June run
UD ROTC cadets will run from New York City to Miami this month to raise awareness about veterans' affairs.
"One of our clues took us to Sambo's; another had us up in a tower at Fort Delaware State Park," says Vaicunas. "We had a great time taking part in the hunt."
Sponsored by the Delaware Section of the American Water Resources Association (DE AWRA), the scavenger hunt is open to teams of two to four adults, says Martha Corrozi Narvaez, a past president of the organization. Each team must decide on a mascot – a rubber ducky, hula girl figurine or what-have-you – and photograph the mascot at each stop on the hunt.  
This year's event kicks off Oct. 7 and runs through Nov. 17. Teams can pick up their clues a few days early if they attend Coast Day, Sunday, Oct. 2, at UD's Hugh R. Sharp Campus in Lewes.
Rest assured, you don't need to be a water wonk like Vaicunas or Narvaez to solve the hunt's riddles. "Sure, I have background knowledge on water issues but I'm also from northern New Jersey," says Vaciunas. "A native Delawarean would have a definite advantage over me on a lot of last year's clues." 
"As long as you have an Internet connection, you'll be able to figure out the water resources stuff," she adds.
Which isn't to say that the scavenger hunt is a walk in the park. Last year, Vaicunas's team got stumped on several questions, including one that asked participants to go to the smallest incorporated town in Delaware (Farmington) and trace the path of a drop of water in the ditches, north of town, which drain and dry surrounding farmland. Teams had to name the last road crossing the drop of water would encounter before leaving the state (the bridge over Marshyhope Creek on Seashore Highway).
In addition to the fun of eating crabs at Sambo's and trekking on Pea Patch Island, the Water Quest Scavenger Hunt offers the incentive of cold, hard cash. Last year, the top team walked away with $350, the second team, $100, and the third $50, plus a restaurant gift certificate was given to the team with the most creative mascot. 
Having the right answers goes a long way toward winning that cash but accuracy isn't the only thing that matters. "The grand prize is awarded based on speed, creativity and completeness of the entry," says Narvaez. Last year, one team scored high in creativity when they photographed their rubber ducky mascot in a pint-sized kayak – and made sure she was wearing her life jacket, too. 
Vaicunas received her undergraduate degree from UD so she has lived here for almost a half-dozen years. Still, she says she was surprised by all that learned about Delaware during last year's hunt.  
"It's a great statewide event, not just because of the compact size of the state but because of its diversity, too," notes Vaicunas. "You have the Piedmont region in the north and the coastal plain in the south. Each region has its own distinct look and also its own particular water resource issues."
Registration for Water Quest Scavenger Hunt is free. To register, go to the website. 
Second place to pick apples in Delaware
Last week we told you that Fifer Orchards is the only "u-pick" apples in Delaware. Not anymore.  This harvest season, T.S. Smith and Sons in Bridgeville introduced u-pick for several crops, including apples. "We're offering u-pick in response to the public's interest in knowing more about where their food comes from, how it is grown and in having an authentic farm experience," says farm spokesperson Greer Stangl.
U-pick at T. S. Smith and Sons is open every Saturday, weather permitting, from 8 a.m. to 4 p.m. Visitors should confirm conditions by calling ahead, 302-337-8271.
Article by Margo McDonough
Photo by Doug Baker