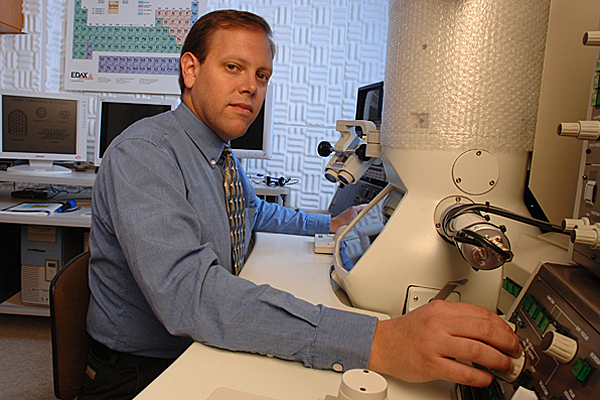 Size matters
UD receives grant to enhance infrastructure for nanomaterials research, education
8:53 a.m., Sept. 7, 2011--Nanomaterials are tiny but mighty, offering the potential for use in a vast array of applications from fuel cells to drug delivery systems. Their size—the diameter of a nano-fiber is approximately one-thousandth that of a human hair—underlies both their power and the challenge of harnessing that power. 
"Strange things happen when materials get that small," says Erik Thostenson, a mechanical engineering professor at the University of Delaware. "Exploiting the unique properties of nanomaterials requires a highly integrated approach involving scientists and engineers from diverse fields. For engineers to be well versed in nanotechnology, it's crucial to introduce the topic early." 
Chronic wounds
UD's Millicent Sullivan and Kristi Kiick have received a $1.4 million grant from the National Institutes of Health for research that could provide a new approach to the treatment of chronic wounds.
Prof. Heck's legacy
The American Chemical Society is highlighting the legacy of the late Nobel laureate Richard Heck, the Willis F. Harrington Professor Emeritus of Chemistry at the University of Delaware with a digital tribute on its publications website.
Thostenson is leading a team that recently received a $200,000 grant from the National Science Foundation's Nanotechnology Undergraduate Education (NUE) in Engineering program. The grant will support research-based educational opportunities for undergraduate students in a number of areas, including energy applications and sensing and actuating devices for smart multifunctional materials. UD's Center for Composite Materials will serve as a focal point for active exchange and interaction in the program.
"We need to provide our students with a solid scientific and technical base as well as an understanding of emerging technologies and the unique properties of nanomaterials if we want to prepare them to engineer new smart structures and devices at the nanoscale," Thostenson says. 
Specific objectives of the program include developing new course materials as an outgrowth of the research, as well as actively involving students in project-based activities to generate excitement about nanotechnology and promote interdisciplinary collaboration. 
"We have a strong infrastructure in place at the center for these types of interdisciplinary projects through our high level of student involvement in professional organizations like SAMPE and ASME," says CCM director John W. (Jack) Gillespie Jr. "These kinds of activities are a great way to build scientific leadership skills and teach students how to effectively work in teams."
The NUE grant will also facilitate the involvement of underrepresented minorities in engineering through UD's Resources to Insure Successful Engineers (RISE) and Women in Engineering (WIE) programs.
About the research team
The UD NUE team encompasses expertise in all aspects of nanoscale materials, including synthesis, manufacturing, modeling, processing, and characterization. Faculty members include Erik Thostenson, assistant professor in the Department of Mechanical Engineering; Tsu-Wei Chou, Pierre S. du Pont Chair of Engineering; Jack Gillespie, CCM director and Donald C. Phillips Professor; Joshua Hertz, assistant professor of mechanical engineering; and Bingqing Wei, professor of mechanical engineering.
About the Center for Composite Materials
Founded in 1974, CCM is an internationally recognized model for industry-university-government cooperative research. Over its 37-year history, CCM has been home to numerous centers of excellence, including one of the first National Science Foundation Engineering Research Centers (NSF-ERCs), in 1985.
Article by Diane Kukich