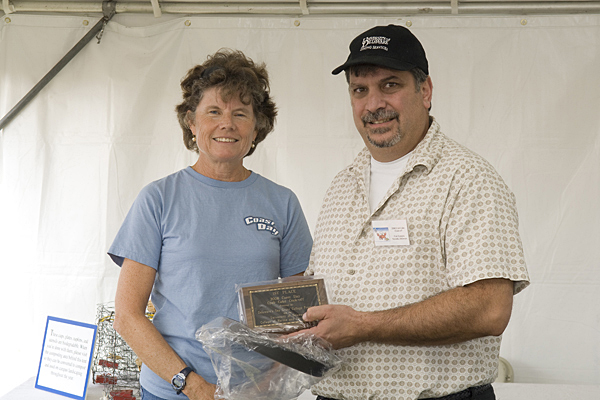 Just the facts on seafood
New website clarifies health benefits and risks of seafood consumption
8:50 a.m., Sept. 30, 2011--A new website aimed at helping consumers weigh the benefits against possible risks of eating seafood has just been launched, and organizers hope the site will help clear up many of the myths surrounding seafood.
The site, seafoodhealthfacts.org, developed largely through a grant from the U.S. Department of Agriculture, was created to serve as a credible resource to health care professionals and consumers, said Michael Morrissey, director of Oregon State University's Food Innovation Center and primary investigator for the project. 
From graduates, faculty
As it neared time for the processional to open the University of Delaware Commencement ceremonies, graduating students and faculty members shared their feelings about what the event means to them.
Doctoral hooding
It was a day of triumph, cheers and collective relief as more than 160 students from 21 nations participated in the University of Delaware's Doctoral Hooding Convocation held Friday morning on The Green.
The effort involved researchers from Oregon State and Cornell universities, and the universities of Delaware, Rhode Island, Florida and California, along with the non-profit Community Seafood Initiative. The end result is a user-friendly, comprehensive website and downloadable brochures aimed at health care professionals and consumers.
"We finally have a straightforward and comprehensive guide for health care professionals and consumers alike to educate themselves on the importance and the risks of consuming seafood," said Morrissey. "Our program has synthesized all the available information from government agencies and leading universities and we've made it accessible not just to health care providers but also to the general public. Consumers should feel confident about their seafood choices—and Seafood Health Facts answers their questions in a credible and balanced way."
Heather Mann, director of the Community Seafood Initiative, added, "Today's consumers are bombarded with conflicting information about the benefits and risks of consuming seafood. From health magazines to mainstream media, the message about seafood is confusing at best and even conflicting at worst. Can I eat seafood while I'm pregnant? What's the mercury risk? Should I get my Omega 3's from supplements versus eating seafood? To complicate matters more, advice from physicians and even from our own various government agencies is often at odds. Throw in advocacy group agendas and a potential seafood consumer is more likely to choose chicken."
The information on the site is organized by topic and includes resources for seafood nutrition and the benefits of seafood consumption, seafood safety and the risks associated with certain types of seafood, a comparison of the risks and benefits of seafood consumption, and the seafood supply in the United States. It is also organized to provide resources aimed at specific population groups. 
"The site will be updated regularly," said Doris Hicks, seafood technology specialist with the Delaware Sea Grant College Program at the University of Delaware. "In fact, we'll soon be posting information from our recently completed conference on educating different consumer groups about the benefits of eating seafood."