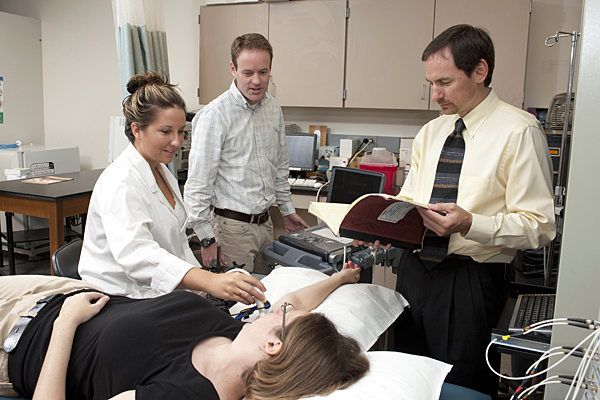 Is it time to throw away the salt shaker?
Researchers suspect salt has negative effects even in those with normal blood pressure
2:44 p.m., Sept. 29, 2011--High salt consumption has been linked to high blood pressure, but many people routinely ingest large amounts of the flavor-enhancing white stuff without causing a blip on the blood pressure monitor. Does that mean it's safe for them to chow down on salty snacks, preserved meats, and sodium-laced condiments?
Two researchers at the University of Delaware think the answer to that question is an emphatic no, and they have received a $1.5 million grant from the National Institutes of Health to test their theory that a high salt diet in humans may have negative consequences apart from an effect on blood pressure.
Chronic wounds
UD's Millicent Sullivan and Kristi Kiick have received a $1.4 million grant from the National Institutes of Health for research that could provide a new approach to the treatment of chronic wounds.
Prof. Heck's legacy
The American Chemical Society is highlighting the legacy of the late Nobel laureate Richard Heck, the Willis F. Harrington Professor Emeritus of Chemistry at the University of Delaware with a digital tribute on its publications website.
"Animal research suggests that excess dietary salt contributes to abnormalities in the endothelium, which is the thin layer of cells that lines the interior surface of blood vessels," says Prof. William Farquhar. "This result can occur even when there is no corresponding rise in blood pressure."
Prof. David Edwards, co-principal investigator on the grant with Farquhar, points out that there are no data to support this effect in humans. Further, the mechanism underlying dietary salt-induced vascular impairment is not known, although there is evidence that oxidative stress may play a role by impairing the availability of nitric oxide to the body. Nitric oxide helps maintain stability in the vascular system, and disruptions in its production and bioavailability have been linked to a number of pathologies including diabetes, high cholesterol, and obesity.
To test their hypothesis, Farquhar and Edwards will control the salt intake of a pool of young and middle-aged adults over 21 days, increasing the daily dosage from 1.3 grams to 6 grams to 20 grams over three seven-day periods. The researchers' comprehensive endothelial assessment of the participants will enable them to determine whether excess dietary salt is impairing vascular function.
"Examining the effects of dietary salt on vascular function in humans is important," Edwards says, "because the majority of young to middle-aged adults do not have 'salt-sensitive' blood pressure and therefore may not be overly concerned about their salt intake. But suppose salt has vascular consequences apart from causing hypertension? Direct evidence of this will provide the rationale for interventions designed to reduce habitual salt intake, ultimately advancing cardiovascular public health initiatives."
About the researchers
William Farquhar is associate professor and chair of the Department of Kinesiology and Applied Physiology in UD's College of Health Sciences. His expertise is in the area of blood pressure regulation. David G. Edwards, an associate professor in the same department, brings knowledge of vascular physiology to the project.
Farquhar and Edwards are collaborating with Paul Kolm from the Christiana Care Center for Outcomes Research, Douglas Seals from the University of Colorado, and Paul Sanders from the University of Alabama at Birmingham.
About the grant
The four-year research project, "Vascular Effects of Dietary Salt in Humans with Salt-Resistant BP," is supported by a grant from NIH's National Heart, Lung, and Blood Institute.
Article by Diane Kukich
Photo by Kathy F. Atkinson