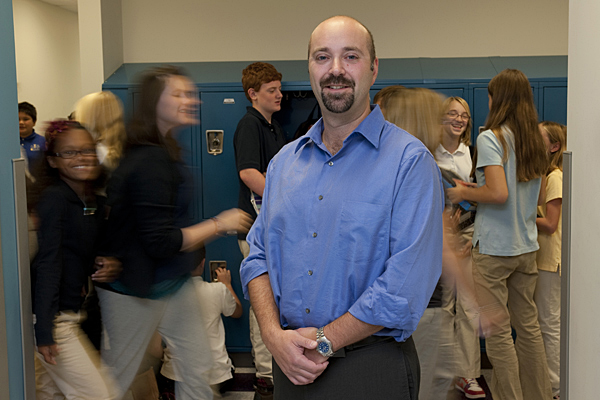 Race and school security
Schools with large minority populations more likely to require metal detectors
9:22 a.m., Sept. 22, 2011--Race and socioeconomic status better predict the use of metal detectors in schools than rates of student misbehavior, according to a new study by sociology professors presented at the 106th annual meeting of the American Sociological Association. 
In the largest study to date on the variation in school security practices, Aaron Kupchik, associate professor of sociology and criminal justice at the University of Delaware, and Geoff Ward, assistant professor of criminology at the University of California-Irvine, analyzed data from more than 2,500 schools nationwide, focusing on five self-reported security measures: on-campus police officers, surveillance cameras, drug-sniffing dogs, metal detectors and locked or monitored gates. 
Chronic wounds
UD's Millicent Sullivan and Kristi Kiick have received a $1.4 million grant from the National Institutes of Health for research that could provide a new approach to the treatment of chronic wounds.
Prof. Heck's legacy
The American Chemical Society is highlighting the legacy of the late Nobel laureate Richard Heck, the Willis F. Harrington Professor Emeritus of Chemistry at the University of Delaware with a digital tribute on its publications website.
While most high schools employ various forms of such security, schools with large minority populations at all levels—from elementary to high—were the ones most likely to use metal detectors, the researchers found. 
Further, while overall security measures were less common in elementary and middle schools, schools with high proportions of low-income students were most likely to utilize these practices. 
"At the high school level, we treat all kids as potential criminals, although minority students are more likely to pass through metal detectors to get to class," Kupchik says. "At the elementary and middle-school level, we're only afraid of some kids—and that's the poor ones."
The consequences, the authors write, help perpetrate social inequities, in which "criminalizing student misconduct may be unique structural features of schools serving the poorest youth and communities."
The use of metal detectors, in particular, concern the researchers, who distinguish it from other forms of security. Unlike the other four measures, Kupchik identifies metal detectors as invasive ("kids are patted down like they're going through airport security") and disruptive to learning environments.
Further, he adds, metal detectors are more heavily aligned with the criminal justice system, and unlike locked gates, which restrict outside elements from coming into the schools, detectors presume students guilty of bringing items inside. 
To prevent unequal security measures for low-income and minority students, Kupchik suggests giving students greater voice and schools more autonomy. 
"We have fairly good evidence of what works," he says. "Schools where students feel respected, listened to, and part of a community have lower crime rates—not schools where students feel that they are always under police surveillance." 
His next phase of research seeks to examine how school discipline and security shape long-term outcomes, fearing disparate school policies may contribute to youth apathy. 
"When students experience school discipline that gives them no voice, no say, no contribution to their education, I wonder if it might affect their approach to civic life," Kupchik says. "I wonder if we may be encouraging kids to become passive citizens down the road." 
Article by Artika Rangan
Photo by Kathy F. Atkinson