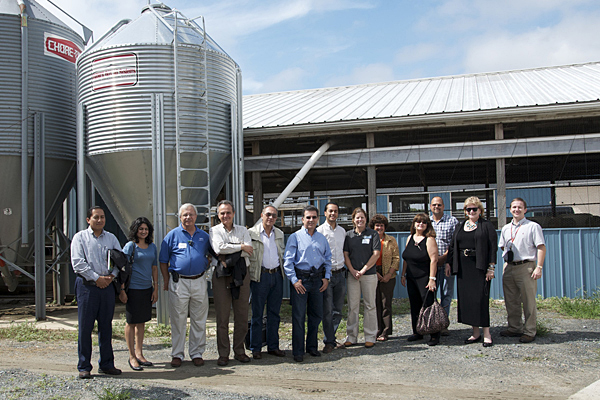 Agricultural outreach
Mexican delegation gets firsthand look at UD Cooperative Extension
3:03 p.m., Sept. 20, 2011--A delegation representing the Mexican Ministry of Agriculture, Livestock, Rural Development, Fisheries and Food (SAGARPA) recently visited the University of Delaware to get a firsthand look at how agriculture extension works in the First State and how that might be useful in establishing similar programs in Mexico. 
The daylong sojourn included meeting with Robin Morgan, dean of the College of Agriculture and Natural Resources, and UD Cooperative Extension program leaders and county extension directors. A tour of the UD farm hosted by Scott Hopkins, farm superintendent, and a flavorful visit to the UDairy Creamy complemented morning and afternoon information sharing sessions held in Townsend Hall.
Fulbright awards
Three University of Delaware students and an alumna have received word this spring that they will travel abroad as part of the newest class of Fulbright Student Program award winners.
Peace Corps plans
Two University of Delaware students, John McCarron and Bridgette Spritz, have been selected as Peace Corps volunteers and will serve in Ghana and Rwanda.
"We are delighted to have you here," Morgan told members of the delegation. "We are always trying to promote Cooperative Extension."
Morgan noted UD's status as a land-grant university with a three-part mission that includes teaching, research and outreach.
"Celebrating that outreach component is very important to us," Morgan said. "Cooperative Extension has really changed agriculture in America, and if we have anything to do with it, that will continue as we go forward."
Jose de Jesus Alaya Padilla, director general of Mexico's National Institute for the development of Capacities of Rural sector (INCA Rural), said that convincing faculty members that is to their benefit to participate in university-based extension programs represents a significant challenge.
"We find that some researchers in the universities say they don't have enough incentives to go out there and do extension services," Padilla said. "We worry about that." 
Morgan noted that a similar situation exists at American universities, where faculty members are promoted based on their publications and the grants they receive.
"What we have done here is to give people very clear appointments, and to let those people do scholarship in extension and document that," Morgan said. "We have had really good success because individuals have done stellar work. We then document this with outside peer reviews."  
How UD Cooperative Extension works
Mark Manno, extension specialist and director UD 4-H youth development, opened the morning information session with an overview and history of Cooperative Extension at UD. 
"You have visited the University of Maryland, the University of the District of Columbia and Lancaster County Extension Office of Pennsylvania State University's College of Agricultural Sciences Program, three very good programs," Manno said. "The program at UD basically extends the outreach of the University, and we get our mandate from the people that we serve." 
Susan Garey, a Kent County Extension agent, livestock, said the Dover-based office provides services to many small farmers who raise livestock but actually work outside of the farm. "A good deal of the education we provide for these individuals takes place in the evenings and on the weekend," Garey said. "We also work with committees that drive what kinds of education is needed."
Extension specialist Joanne Whalen described to delegation members the evolution of Cooperative Extension's integrated pest management program. 
"The integrated pest management program called for universities to develop programs where we would survey fields and talk to growers about pesticides, economics and crop management," Whalen said. "We take the face of UD out to the village and show that we can help them make better pest management decisions." 
Maria Pippidis, New Castle County Cooperative Extension director, said the communities and individuals served benefit from the wide range of expertise provided by UD faculty and extension agents.
"At the university level, there are faculty and extension specialists who are very knowledgeable in topic areas, and then there are the county-based personnel located in each of Delaware's three counties," Pippidis said. "These [county-based] educators are responsible for developing educational programming that takes the science and research-based knowledge from UD and other land-grant universities out into the community."  
Ernesto Lopez, an extension specialist working with youth with Hispanic backgrounds in Sussex County, said that because Delaware is a small state it provides more opportunities to work with stakeholders in the various communities served by Cooperative Extension.
"One of the reasons that 4-H has worked so well in Delaware is that we have a close-knit group of volunteers," Lopez said. "Extension work is all about a commitment to relations, bringing volunteers and parents and partners to the table and getting feedback as to how we should move forward." 
Ignacio River Rodríguez, SAGARPA undersecretary for rural development, said that research and the development of trust should be the goals of all extension service providers. 
"Education is so important," Rodríguez said. "This is the place where we must find the answers."
Other members of the delegation from Mexico included Adam Branson, agricultural attaché, U.S. Embassy, Mexico City. 
Representatives from SAGARPA also included:
Jose Miguel Moto del Hoyo, director general of professional services for rural development (SAGARPA);
Noe Serrano Rivera, chief of staff for the undersecretary of agriculture; and
Bernardo Finck Vite, subdirector of studies, livestock strategic planning directorate.
Article by Jerry Rhodes
Photo by Danielle Quigley