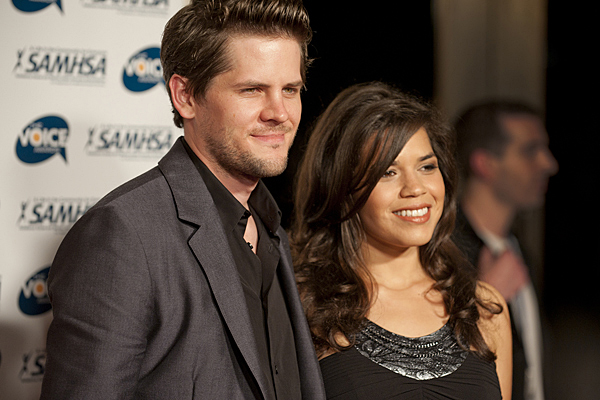 Latino Heritage Month
University announces Latino Heritage Month and Beyond activities
Editor's note: The Sept. 29 program, "Voices Across Generations," has been postponed.
8:20 a.m., Sept. 15, 2011--Latino Heritage Month and Beyond activities at the University of Delaware will open Sept. 24 and continue through Nov. 4, with the highlight an appearance by Ugly Betty actress America Ferrera the evening of Monday, Oct. 24.
Ferrera, an Emmy Award-winning actress best known for her portrayal of Betty Suarez, the title character on the ABC hit show Ugly Betty, will speak at 7 p.m., Monday, Oct. 24, in the Multipurpose Rooms of the Trabant University Center as part of the Latino Heritage Month Extravaganza.
From graduates, faculty
As it neared time for the processional to open the University of Delaware Commencement ceremonies, graduating students and faculty members shared their feelings about what the event means to them.
Doctoral hooding
It was a day of triumph, cheers and collective relief as more than 160 students from 21 nations participated in the University of Delaware's Doctoral Hooding Convocation held Friday morning on The Green.
In 2011, Ferrera received the Global Action Award for Childhood Development and Education for her work with Save the Children in Mali and the Cesar E. Chavez Legacy Award for her commitment to helping underprivileged families and youth.
Her talk will focus on the importance of education and mentoring.
For tickets and information, see the Center for Black Culture website.
Other activities are scheduled as follows:
Saturday, Sept. 24: Center for Black Culture historical and cultural excursion to visit the Rev. Dr. Martin Luther King, Jr., National Memorial in Washington, D.C. Participants also will visit the Smithsonian. A bus will leave at 9 a.m. and return at 7 p.m. For tickets or additional information, see the center's website.
Thursday, Sept. 29: "Voices Across Generations" panel discussion, 5:30 p.m., Trabant University Center Theatre.  POSTPONED. Faculty, staff and students from past and present will discuss the Latino experience at UD. Goals of the program are to welcome members of the Class of 2015 and share insights on ways to more successfully recruit and retain members of this community. This program will be presented later, at a date to be announced.
Thursday and Friday, Oct. 6-7: "The African Americas Project," Ewing Room, Perkins Student Center. Artists, musicians and scholars will explore connections between Latin America, the Caribbean and the U.S. For a complete list of programs and sponsors, see this website.
Wednesday, Oct. 12: Comida Latina food festival, Kent and Rodney dining halls, dinner only. The festival will feature traditional dishes from Argentina, Cuba, Colombia, the Dominican Republic, Mexico, Puerto Rico and Spain.
Thursday, Oct. 13: Comida Latina food festival, Russell and Pencader dining halls, dinner only.
Thursday, Oct. 13: Screening of the film Real Women Have Curves, 6 p.m., Room 100 Kirkbride Hall. The film tells the story of a first generation Mexican-American high school student who dreams of going to college but whose parents want her to stay home to work. A discuss will follow.
Friday, Nov. 4: Fiesta Latina, 7-10 p.m., Multipurpose Rooms, Trabant University Center. There will be live music featuring the Latin band La Insaciable, as well as traditional food.
For a Latino Heritage Month poster highlighting events, in PDF format, click here.