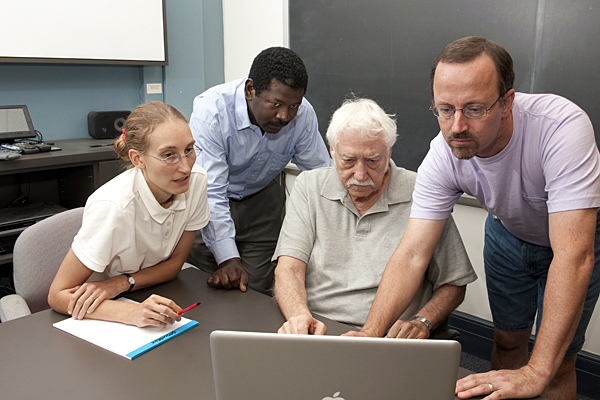 Where has all the oil gone?
Innovative predictive tool will aid in spill response and mitigation
10:37 a.m., Sept. 21, 2011--The April 2010 Deepwater Horizon catastrophe in the Gulf of Mexico raised many questions about the impacts of the spill: How are the oil and its constituents physically distributed? How does the oil evolve chemically and degrade biologically in the water? What are the environmental effects on various aquatic systems? What can be done to prevent and mitigate such spills in the future?
To address these questions, the Gulf of Mexico Research Initiative recently awarded $112.5 million to eight research consortia headed by academic institutions in Gulf Coast states. Under this initiative, the University of Delaware has joined 11 other schools from across the U.S. in the Consortium for Advanced Research on Transport of Hydrocarbon in the Environment (CARTHE).
Chronic wounds
UD's Millicent Sullivan and Kristi Kiick have received a $1.4 million grant from the National Institutes of Health for research that could provide a new approach to the treatment of chronic wounds.
Prof. Heck's legacy
The American Chemical Society is highlighting the legacy of the late Nobel laureate Richard Heck, the Willis F. Harrington Professor Emeritus of Chemistry at the University of Delaware with a digital tribute on its publications website.
Led by the University of Miami, CARTHE will conduct basic research to accurately predict the fate of hydrocarbons released into the environment, guiding risk management and response efforts to minimize damage to human health, the economy and the environment. 
Prof. Dennis Kirwan, UD principal investigator for the project, explains why the problem is not a simple one. 
"When the oil spews out from the wellhead, we're talking about a scale of about one meter," he says. "Then it rises about 1,500 meters in the water column, with chemical processes changing the hot mixture of crude oil, gases, and water as it rises. Ultimately, a substantial portion of the mixture reaches the surface, where it gets dispersed by currents. At this point, the scale has grown to hundreds of kilometers. Finally, processes like burn-off, evaporation, and tropical storms cause further dispersion, with the scale now at thousands of kilometers."
Predictive models are used to help figure out how the oil changes over time and where it goes, so that an efficient and effective response can be planned and implemented. But, says Kirwan, "No one model can handle all of these scales and multi-phase processes."
To address this problem, CARTHE researchers will incorporate a number of state-of-the-art geo-physical models into a single, interconnected modeling tool to predict the physical dispersal of contaminants across a vast range of spatial and temporal scales and physical processes.
"What we've proposed is a cutting-edge approach," Kirwan says. "Because scientists have little experience in bridging the scale gap between models, our effort will initiate an important new research direction."
The researchers will also conduct experiments in support of model development. "Obviously, we can't deliberately put oil into the environment," says Kirwan, "so instead we'll use cheap drifters that can be tracked by satellite to approximate a spill. We can then compare the actual movement of the drifters with the model output."
"These experiments are innovative, and they're designed to look at interactions across a number of scales," he adds. "This is the first time we've used this approach."
In addition to modeling and experiments, CARTHE encompasses a major outreach component aimed at educating a broad audience—including the general public, policy makers, risk managers, students, scientists, and engineers—about the potential implications of hydrocarbon releases in the environment and about what types of information are most important in developing accurate oil spill forecasts. 
About the UD team
Dennis Kirwan is Mary A. S. Lighthipe Professor of Marine Studies at the University of Delaware. Other CARTHE participants at UD are assistant research professor Bruce Lipphardt, assistant research professor Helga Huntley, and postdoctoral researcher Mohamed Sulman, all in the College of Earth, Ocean, and Environment.
About the consortium
CARTHE's lead institution is the University of Miami Rosenstiel School of Marine and Atmospheric Science (RSMAS). The director is Prof. Tamay Ozgokmen at RSMAS.
Other members of the consortium are City University of New York (Staten Island), Florida International University, Florida State University, the Naval Postgraduate School, the Naval Research Laboratory (Stennis Space Center), Nova Southeastern University, Texas A&M University, Tulane University, University of Arizona, University of Delaware, and University of Texas (Austin).
The team includes 26 principal investigators, 14 doctoral students, 10 postdoctoral fellows, and 18 other research staff to carry out the planned scientific investigations. Collectively, they have expertise in a broad range of scientific areas, including oil fate and transport processes, oceanic and atmospheric turbulence, air-sea interactions, tropical cyclones and winter storms, and coastal and nearshore modeling and observations.
About GRI 
As part of the settlement of the Deepwater Horizon incident on April 20, 2010, BP announced a commitment of up to $500 million over 10 years to fund an independent research program designed to study the impact of the oil spill and its associated response on the environment and public health in the Gulf of Mexico.
The eight grants announced on Aug. 30, 2011, were awarded in response to a request for proposals from groups of researchers with compatible expertise from four or more institutions to address one or more of five intellectual themes established by the GRI Research Board. CARTHE is addressing Theme 1: physical distribution, dispersion, and dilution of petroleum, its constituents, and associated contaminants under the action of physical oceanographic processes, air-sea interactions, and tropical storms.
Article by Diane Kukich
Photo by Kathy F. Atkinson