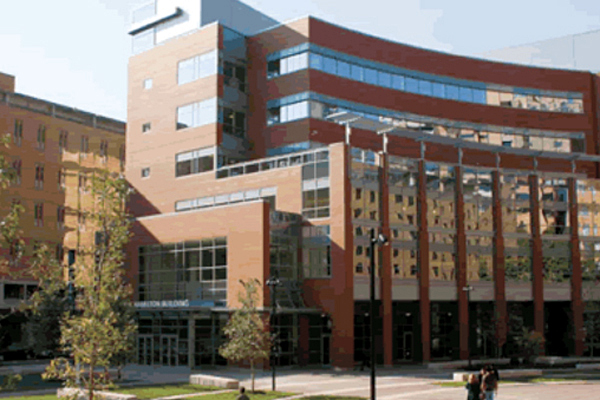 DHSA to hold conference
Event will address health care workforce needs for the 21st century
1:37 p.m., Sept. 22, 2011--The University of Delaware and Thomas Jefferson University are partnering to hold a one-day conference, "Creating the Health Care Workforce for the 21st Century," on Friday, Oct. 21. The event will be held at Jefferson's Dorrance H. Hamilton Building from 8:30 a.m.-6 p.m.
Part of UD's Creating Knowledge-Based Partnerships series, the conference is sponsored by the Delaware Health Sciences Alliance (DHSA).
From graduates, faculty
As it neared time for the processional to open the University of Delaware Commencement ceremonies, graduating students and faculty members shared their feelings about what the event means to them.
Doctoral hooding
It was a day of triumph, cheers and collective relief as more than 160 students from 21 nations participated in the University of Delaware's Doctoral Hooding Convocation held Friday morning on The Green.
The meeting will focus on addressing the challenges of workforce development under health reform and developing creative approaches to extend the health care workforce when there is a shortage of primary care practitioners.
The program includes:
A keynote address by Edward G. Rendell, former governor of Pennsylvania;
A talk by Susan Dentzer, editor-in-chief of Health Affairs, on the benefits of cultivating collaborative and coordinated care; and
A presentation by JoAnne Conroy, chief health care officer of the American Association of Medical Colleges, on the need for transformational change in the education of heath care professionals. 
In addition, the agenda includes two panel discussions.  The morning session, moderated by Michael Vergare, senior vice president for academic affairs at Jefferson, will focus on building a team-based workforce. The afternoon panel—with DHSA executive director Kathleen Matt as moderator and Secretary Rita Landgraf, Delaware Health and Social Services, as a panelist—will address promoting and sustaining innovative approaches to workforce development. 
Registration fees are $40 for DHSA members (UD, Jefferson, Nemours/A.I. duPont Hospital for Children, and Christiana Care Health System); $60 for those not affiliated with DHSA; and $20 for students.
Registration is available online. For more information, contact Gina Porter, University of Delaware, at chs-info@udel.edu, or Jeannine Kinney, TJU, at 215-955-0194.
About DHSA
The Delaware Health Sciences Alliance was established in 2009 with four founding partners—Christiana Care Health System, Nemours/Alfred I. duPont Hospital for Children, Thomas Jefferson University, and the University of Delaware.
The alliance enables partner organizations to collaborate and conduct cutting-edge biomedical research, to improve the health of Delawareans through access to services in the state and region, and to educate the next generation of health care professionals.
DHSA's unique, broad-based partnership focuses on establishing innovative collaborations among experts in medical education and practice, health economics and policy, population sciences, public health, and biomedical sciences and engineering. For more information, see the website at www.dhsa1.org.
Article by Diane Kukich