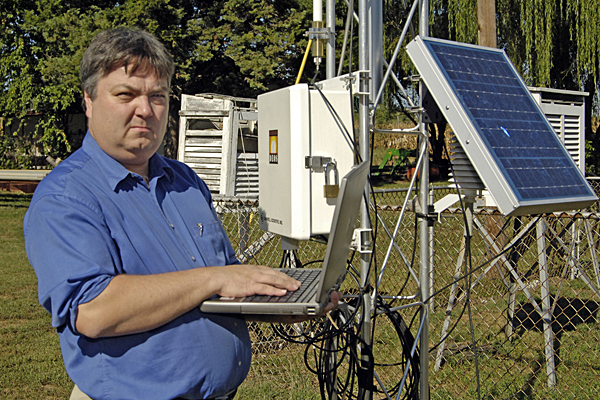 DEOS and Nigeria
Partnership provides real-time updates on climate conditions in Delaware, Nigeria
10:46 a.m., Sept. 14, 2011--When severe weather strikes, decision makers need good information.  The Delaware Environmental Observing System (DEOS) has not only been helping the state of Delaware with emergency operations, but officials have been helping Nigeria establish a similar system.
In 2006, the Nigerian government asked researcher Pius Okeke of the University of Nigeria to establish an environmental observing system.  Through a colleague at Harvard University, Okeke was directed to DEOS, a joint effort of the University of Delaware's College of Earth, Ocean, and Environment (CEOE) and the Delaware Geological Survey (DGS).
Fulbright awards
Three University of Delaware students and an alumna have received word this spring that they will travel abroad as part of the newest class of Fulbright Student Program award winners.
Peace Corps plans
Two University of Delaware students, John McCarron and Bridgette Spritz, have been selected as Peace Corps volunteers and will serve in Ghana and Rwanda.
Okeke and colleagues from the Centre for Basic Space Science at the University of Nigeria, Nsukka, visited the University to learn the technologies and practices used to maintain DEOS.  Using a network of 51 monitoring stations in and around Delaware, DEOS provides real-time data on climate conditions via a web portal.  By 2006, DEOS had been in place for four years, providing a stellar working model for the Nigerian Environmental and Climatic Observing Program (NECOP).
David R. Legates, professor in UD's Department of Geography, is the U.S. lead on the joint project.  "They're building on a country-wide scale what we're doing in Delaware," Legates said.  Currently in Nigeria, 16 monitoring stations have been installed and one precipitation-tracking satellite has been launched with the goal of 21 stations nation-wide and one additional satellite.  Legates points out, "Even a dense network of sensors still might not detect what a satellite can."
NECOP supplies climate information to the Nigerian government, as well as to the country's emergently significant poultry industry, which is susceptible to weather variability, especially heat and drought.  Legates sees the clear implications for similar use here in Delaware. 
Legates also plans to use the data from Nigeria as a teaching tool.  Students who might never have traveled to the tropics will get to see live data from a tropical locale on the other side of the globe and compare it to the data collected by DEOS.  This, in turn, can be used to help teach climate and geography in Delaware's schools through the Delaware Geographical Alliance of which Legates is the faculty director.
About UD's relationship with the University of Nigeria
The Centre for Basic Space Science (CBSS) was established in 2001 with the goal of developing national and international relationships that expand the knowledge of researchers and students in atmospheric science and astronomy, while serving as a resource for governmental and non-governmental agencies of Nigeria. 
According to its website, CBSS sees its international collaborations as an opportunity for increasing understanding and cooperation in the worldwide scientific community, but also as a means of supporting Nigerian industrial growth. 
The partnership has allowed researchers to experience both the Delaware and Nigeria projects.  Okeke traveled to Delaware in 2007, and Lanre Daniyan of CBSS was a visiting scientist at UD for one month that year.  In fall 2008, Kingsley Okpala, a researcher from CBSS, studied solar terrestrial modeling with Dermott Mullan, director of the Delaware Space Grant Program and professor in the Department of Physics and Astronomy.  
A group from Delaware visited Nigeria for eight days this past June to see the Nigerian installations first-hand.  Further visits are expected for the coming year, and both teams look forward to the continued relationship.
Article by Tabitha Groh
Photo by Kathy F. Atkinson