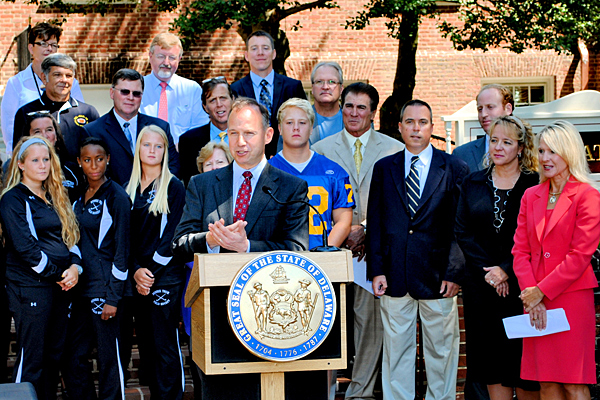 Playing it smart
Legislation protects young athletes from concussions
9:44 a.m., Sept. 7, 2011--Research has shown that repeated concussions can lead to serious brain injury, and common practice in recent years has been to pull players with suspected concussion off the field.
Now, Delaware has a law to formalize this standard approach to concussion treatment and management. Sponsored by State Sen. Bethany Hall-Long (D-Middletown), who is also a professor in the School of Nursing at the University of Delaware, Senate Bill 111 was signed into law by Delaware Gov. Jack Markell on Aug. 30.
'Resilience Engineering'
The University of Delaware's Nii Attoh-Okine recently published a new book with Cambridge University Press, "Resilience Engineering: Models and Analysis."
Reviresco June run
UD ROTC cadets will run from New York City to Miami this month to raise awareness about veterans' affairs.
The law requires the Delaware Interscholastic Athletic Association (DIAA) to provide information to coaches, players, and parents about concussions. In addition, an athlete cannot return to play until he or she has been cleared by a licensed health care professional. The law also mandates that coaches be trained in these new procedures.
"The new law reflects what we've been doing in Delaware for the past several years," says Dan Watson, staff athletic trainer at UD. "The key with the law is that it backs up these practices and ensures that parents and coaches understand the policies." 
Hall-Long worked with a broad group of stakeholders, including the DIAA, school nurses and athletic trainers and physician organizations, to draft the legislation. In addition, she was instrumental in drawing two special guests to the signing: former Philadelphia Eagle Vince Papale and Jeff Miller, senior vice president of government relations and public policy for the National Football League.
"You can get along with a sprained ankle, you can get along with dislocated or separated shoulders, or broken teeth, or broken noses, or pulled muscles and all the things I've had," said Papale, who inspired the movie Invincible. "We can heal from that, maybe we'll have a little bit of a limp, but in order to compete anymore in society and in the world, you can't have a limp in the brain."
Delaware was the 22nd state this year and the 29th overall to pass concussion treatment and management legislation. Washington was the first, with the passage of the Lystedt Law in 2009. The legislation was spurred by the plight of Zack Lystedt, who suffered permanent brain damage when he returned to a middle-school football game after experiencing an undetected concussion.
UD Prof. Tom Kaminski has done research on the relationship between concussion and heading the ball in soccer players.
"I'm excited because this legislation is a message to the athletes, coaches, and parents in our state that the medical community—especially certified athletic trainers—is serious about sport-related concussions and has the best interest of athletes in mind when it comes to managing these injuries," he says. "Our research has demonstrated that treating sport-related concussions conservatively gives athletes the best chance at a safe return to competition."
At the signing, Markell cited statistics from the Centers for Disease Control and Prevention that more than 1.5 million athletes suffer sports-related concussions each year in the United States, of which 135,000 are taken to hospitals to be checked for brain injuries.  
Markell also related his own experience with a concussion as a high school baseball player, when his strapless helmet came off and he collided with the opposing catcher.
About the UD team
Bethany Hall-Long is a state senator (D-Middletown) and a professor in the School of Nursing. She has a joint appointment in the School of Public Policy and Administration. Thomas Kaminski is a professor in the Department of Kinesiology and Applied Physiology and director of UD's athletic training education program. Dan Watson is a staff athletic trainer in UD Athletics and president of the Delaware Athletic Trainers Association (DATA). He holds an adjunct instructor appointment in the Department of Kinesiology and Applied Physiology.
Article by Diane Kukich