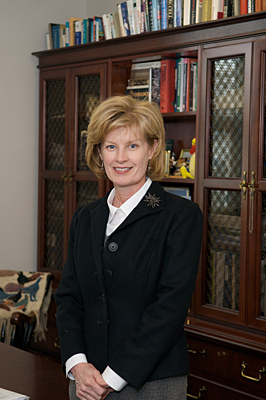 CANR dean to step down
Robin Morgan to step down as CANR dean
3:35 p.m., Sept. 15, 2011--Robin Morgan has announced that she will step down from her position as dean of the University of Delaware College of Agriculture and Natural Resources at the end of the 2011-12 academic year, when she completes her second five-year term as dean.  Morgan will return to the CANR faculty.
UD Provost Tom Apple will soon convene a search committee so that a new dean can be recruited during the current academic year.
From graduates, faculty
As it neared time for the processional to open the University of Delaware Commencement ceremonies, graduating students and faculty members shared their feelings about what the event means to them.
Doctoral hooding
It was a day of triumph, cheers and collective relief as more than 160 students from 21 nations participated in the University of Delaware's Doctoral Hooding Convocation held Friday morning on The Green.
"Robin Morgan's excellent leadership has had a lasting effect on the College of Agricultural and Natural Resources, on the University and on the state of Delaware. Her work has truly shaped the college, and I'm happy that we will continue to benefit from her insights and dedication as she returns to our faculty," Apple said.
During this time of transition, Morgan notes that CANR will continue to move forward on exciting and challenging tasks. 
Morgan said, "New things are on the horizon for us during this next academic year. We must balance a challenging budget, assure the success of our new hires to the best of our ability, continue to win contracts and grants, recruit promising students into our programs, and do everything we can to reach out to the citizens of Delaware and beyond for the benefit of agriculture and our environment."
"And, we must encourage everyone to visit the UDairy Creamery and eat ice cream," she added with a smile.
Photo by Danielle Quigley