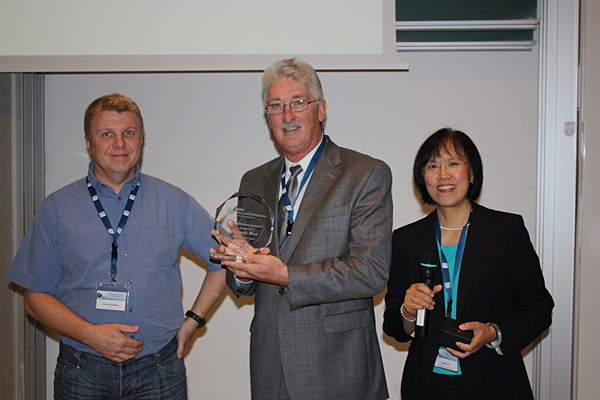 Plastic fantastic
University engineer wins lifetime achievement award for green research
10:53 a.m., Oct. 13, 2011--An Internet search of the term "bio-based resources" returns an overwhelming 342,000 hits. Equally impressive is a search for University of Delaware's Richard P. Wool and "bio-based resources," which nets 63,400 results.
Wool, professor of chemical engineering and director of UD's Affordable Composites from Renewable Sources (ACRES) program, is internationally known for his passionate pursuit of green engineering products. His research focuses on developing bio-based materials to impact renewable energy projects in such areas as wind, solar, hydrogen storage and efficient housing. 
National Medal of Science
President Barack Obama recently presented the National Medal of Science to University of Delaware alumnus Rakesh Jain.
Warren Award
Rosalind Johnson, assistant dean for student success in the NUCLEUS Program in UD's College of Arts and Sciences, was presented the John Warren Excellence in Leadership and Service Award during a May 26 ceremony.
The BioEnvironmental Plastic Society (BEPS) honored Wool with the Lifetime Achievement award during a conference held Sept. 27-30 in Vienna, Austria. Given annually, the award recognizes Wool's scientific and scholarly contributions in the fields of biopolymers, biobased materials and bioplastic related bioenergy systems.
Wool gave a plenary address during the conference, entitled "Biobased Polymers and Composites." He was also the keynote speaker at the Advances in Polymer Science and Technology (ASPT) 2 meeting at Johannes Kepler University in Linz, Austria.
"Advances in genetic engineering, composite science and natural fiber development have led to an emerging market for new, improved green materials that are recyclable, biocompatible and biodegradable, in an effort to enhance global sustainability," said Wool. 
His research has been highlighted in The New York Times, Science Times and Chemical & Engineering News, and has appeared on the Public Broadcasting Service series NOVA's Making Stuff: Stronger, Smaller, Cleaner, Smarter and the Sundance Channel's documentary Gadgets. 
Students from Wool's ACRES bio-based materials research group won the 2011 Youth Council on Sustainable Science and Technology (YCOSST) P3 design award from the American Institute of Chemical Engineers (AIChE) for environmentally sustainable apparel and footwear. The eco-friendly attire was made using plant oil and chicken feathers in new composite bio-based materials through an interdisciplinary project with students from UD's Department of Fashion and Apparel Studies.
Additionally, Wool's disaster-resistant roofing technology, made from recycled paper infused with biobased resins and synthetic foam, is being considered by the South African government for low-cost housing. Developed in partnership with Tripp Shenton, chair of UD's Department of Civil and Environmental Engineering, the work also has inspired "houses in a box," prefabricated home systems which could be deployed in the thousands by the Red Cross.
"UD is 'greener' because of Professor Wool, who is a world-recognized leader in the field of green chemistry and biopolymers," noted Norman J. Wagner, Alvin B. and Julia O. Stiles Professor and chair of the Department of Chemical Engineering.  "His research and inventions in biopolymers are an important component of the chemical engineering department's push to help 'green' UD -- which includes the green roof and the department's recently operational biodiesel processing pilot plant."
About Richard Wool
Wool, who joined the UD faculty in 1994, is the author or editor of four books and over 170 publications. He holds five U.S. patents and is a fellow of the American Physical Society, Division of Polymer Physics. In 2010, he received the American Chemical Society's Affordable Green Chemistry award. He currently chairs the annual Gordon Research Conference on Composites. 
Article by Alyssa Cella