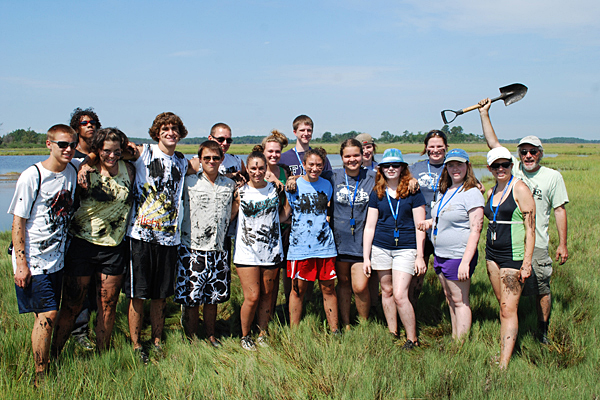 Rolling with the TIDE
High school students take an interest in Delaware's estuary
9:58 a.m., Oct. 13, 2011--Students participating in the 2011 Taking an Interest in Delaware's Estuary (TIDE) summer camp kept busy as they studied various aspects of marine science.
While the TIDE students came in at the beginning of the camp with a basic grasp of marine science, they left with a deeper understanding and appreciation of the subject, having spent two weeks immersing themselves in studies of and interactions with various aquatic habitats. 
From graduates, faculty
As it neared time for the processional to open the University of Delaware Commencement ceremonies, graduating students and faculty members shared their feelings about what the event means to them.
Doctoral hooding
It was a day of triumph, cheers and collective relief as more than 160 students from 21 nations participated in the University of Delaware's Doctoral Hooding Convocation held Friday morning on The Green.
Frank Newton, assistant dean of the College of Earth, Ocean, and Environment (CEOE), is the TIDE faculty coordinator, along with Dana Veron, assistant professor of physical ocean science and engineering.
Newton said of the student experience, "Students have told us that the camp gives them a much deeper and broader understanding of marine science and all the different aspects that go into that, and I think it certainly increases their passion for science in general and marine science in particular."
This year the students studied everything from autonomous underwater vehicles (AUVs), actually teaming up in groups to build their own remotely operated machines, to wind power, culminating with an up close tour of the University of Delaware's wind turbine on the Hugh R. Sharp Campus in Lewes.
They learned both at the Sharp Campus, staying at the Virden Center conference facility from July 24-29, and at the Newark Campus, staying overnight in residence halls from July 17-23.
Learning was not restricted to the classroom, as they gained hands-on experience studying Delaware's marshes, both on a kayak tour and on a foot tour with Doug Miller, associate professor of oceanography.  They also went trawling for ocean critters on the vessel Donna M and used seine nets to study life in the Delaware Bay.
These diverse learning experiences help the students as they try to figure out what specific area of science they want to study in college. "Some students come in thinking that they want to be a marine biologist and what they find out is that they really want to be oceanographers or marine geologists," Newton said, "and so it helps expand their consciousness about all the different ways they can get involved in marine science."
But it's not all work and no play at TIDE, as the students had many opportunities during their down time for fun extracurricular activities. They went on a field trip to the National Aquarium in Baltimore, went tubing on the Brandywine River, and participated in Discovery Days, which allowed them to learn more about the University of Delaware. They also got to swim at the University pool, had barbeques at faculty members' homes, and went bowling and to the movies at night.
Newton summed up the experience of the camp saying, "It's an academically rigorous experience paired with great fun, and a lot of the students have described it as transformational. It changed the way they thought about college or studying science."
TIDE is supplemented and sponsored by Delaware Sea Grant. 
Visit www.ceoe.udel.edu/TIDE for information about the next TIDE Camp, which will be held July 15-27, 2012.
Article by Adam Thomas
Photo by Frank Newton