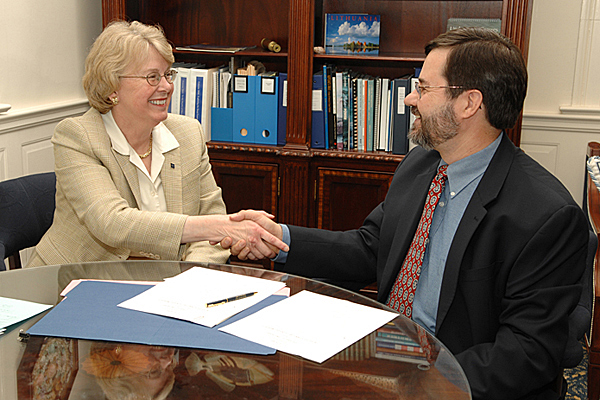 Sounds of the sea
SCOR takes first step in studying ocean noise worldwide
12:02 p.m., Oct. 21, 2011--A recent open science meeting for an International Quiet Ocean Experiment, held in Paris, was co-sponsored by the University of Delaware-based Scientific Committee on Oceanic Research (SCOR).
In Paris, a broad spectrum of ocean scientists gathered to determine how to conduct a global study to see if sound is increasing in the world's oceans. 
Fulbright awards
Three University of Delaware students and an alumna have received word this spring that they will travel abroad as part of the newest class of Fulbright Student Program award winners.
Peace Corps plans
Two University of Delaware students, John McCarron and Bridgette Spritz, have been selected as Peace Corps volunteers and will serve in Ghana and Rwanda.
If sound is indeed increasing, the researchers also discussed how to study the impacts the noise has on marine animals and how to manage the noise levels.
Ed Urban is executive director of SCOR, which is housed in UD's College of Earth, Ocean, and Environment (CEOE). SCOR co-sponsored the conference with the Partnership for Observation of the Global Oceans (POGO). 
The conference was funded by the Alfred P. Sloan Foundation and hosted by the Intergovernmental Oceanographic Commission of the United Nations Educational, Scientific and Cultural Organization (UNESCO).
Urban said the conference was a great way to get interdisciplinary feedback from ocean research professionals across the globe.
"The purpose of the conference was to bring together the community of marine scientists, industry people, navy representatives and environmental groups to develop a plan to characterize sound in the ocean in a large international project and then also explore the effects of sound on marine organisms," Urban said. "There's been scattered research on both of these aspects for the past decades, but nothing that's been done in a coordinated way around the world."
One idea that resulted from the conference is to get a good standardized set of ocean sound measurements, similar to the "Keeling Curve," which displays the rising amounts of carbon dioxide in the Earth's atmosphere over time. 
There have been observations and research conducted by navies in various parts of the world but Urban explained that researchers "don't have a good set of standardized measurements in all of the world's oceans about the level of sound and whether humans are increasing it."
Urban said that some research points to sound rising by "three decibels per decade" but those measurements are based only on data taken from a few specific locations. Measuring sound in all the world's oceans, and creating ocean sound curves for different oceans, would enable researchers to determine whether sound actually is increasing in all parts of the global ocean. 
With a number of specific studies already in existence, Urban said the hope is to be able to "tie together and standardize existing observations where that's possible and then move on to the next phase." That phase would entail the placement of new receivers and hydrophones in areas where there has not been adequate coverage.
"You know, you can't really do anything about managing an issue until you understand the size of the issue," Urban explained. 
Should ocean noise indeed be increasing, Urban likened it to being at a party where you are trying to talk to someone but there is too much chatter or the music is too loud and you can't hear what they are saying. Urban said that partygoers have a simple solution: "You can leave the room, and if it bothers you too much, you can just leave the party." 
That solution does not work so well, however, for marine animals.
Urban said that there is some evidence from studies that low-frequency sound, which travels further than high-frequency sound, is increasing in the world's oceans and that "every bit you add from ships or from other human activities is just adding to the background, so it seems to be getting noisier and noisier." 
This could be problematic for whales and other marine animals as they attempt to communicate. 
The main culprits in ocean noise pollution, Urban explain, are supertankers. There are about 50,000 supertankers and other large ships in the world's oceans at any given time and Urban said they add much to the clatter, between their large motors and propellers and the wash of bubbles they create.
Other sources of noise include air guns used for petroleum exploration, various forms of sonar and a new contributor on the scene -- pile-driving used in the construction of wind farms and other offshore construction.
Urban said researchers are in the very early stages of planning. The next step is to finish the science plan, get it reviewed and then establish a project committee. 
Until the science plan is in place, Urban and the other ocean professionals who attended the conference will continue to think of new ways to monitor and better manage the noise in the world's oceans. 
Article by Adam Thomas