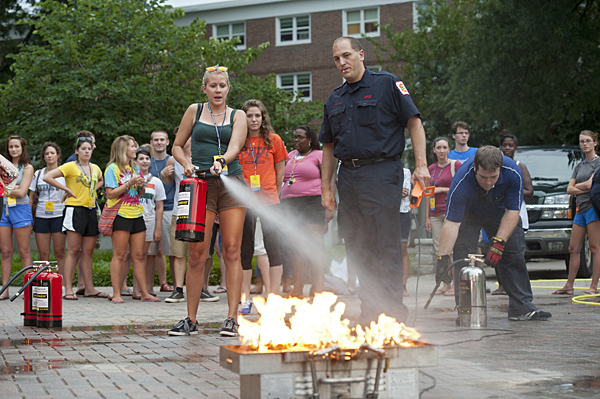 Fire safety
UD kicks off new fire safety training program
9:25 a.m., Oct. 21, 2011--The University of Delaware is offering its students a new web-based fire safety training program as a pilot test for future development and use. 
Sponsored jointly by Environmental Health and Safety (EHS), Residence Life and Housing Assignment Services, the pilot program was developed by the National Institute of Fire Safety Training (NIFAST) and is called Flashpoint. 
June 6: UDid It! Picnic
All UD faculty and staff members are invited to attend the annual UDid It! employee appreciation picnic, set from 11 a.m.-1:30 p.m., Monday, June 6, on The Green.
2FA protects you
If you are using two-factor authentication (2FA), even if a hacker has your password, your information is probably safe.
Residence Life is asking all resident assistants (RAs) to participate by taking the online training within the next couple of months. Resident assistants will be promoting the training within their complexes to enhance the fire safety knowledge of their residents.  
Housing Assignments Services is asking all residents of Conover Apartments and the Graduate House to take the training as part of the rental agreement to reside in these units.  
In addition, the offices of Student Conduct and Residence Life will be able to use the training class as a tool with students who violate related residence hall regulations.
UD students can register and start the training by logging in through the EHS and Residence Life webpages. A direct link to the course is available here. When registering, students indicate whether they live on campus or off campus.
For on-campus students, the training provides floor plans and fire evacuation procedures for all UD residence halls, Conover Apartments, the Graduate House and Greek housing. Its eight training modules include exit planning, kitchen fire safety, fire prevention measures and fire extinguisher training. 
The program can be even more helpful for off-campus students, a population that is often more vulnerable to risk since their residences may not have automatic sprinklers or monitored fire alarm systems. 
Upon completing the training modules, students take a written exam of 44 questions, or the more daring students can test their knowledge by taking the exam after a review of the residence hall complex fire evacuation plans. A passing score of 80 percent results in the student receiving a training certificate.  
The training program is designed so that the EHS fire safety staff will be able to review student performance and make necessary changes to areas and questions where the students are experiencing the most difficulty. This ability to incorporate changes provides great flexibility to address trends or problems that may develop.  
This program is part of UD efforts to satisfy the recently implemented U.S. Department of Education's Annual Fire Safety Reporting expectations, which include enhancement of fire safety training.  
Photo by Evan Krape