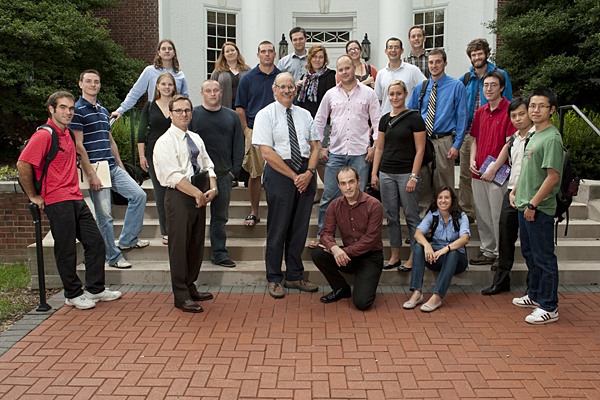 RAISE-ing the bar on research ethics
Research integrity class trains grad students to be peer 'ethics educators'
10:59 a.m., Oct. 24, 2011--This semester, a group of 21 University of Delaware graduate students gathers every Thursday afternoon at 4 o'clock for what may be the most interdisciplinary graduate-level class on campus: Research Ethics (PHIL 667/UNIV 604).
Representing diverse fields including geography, psychology, business, education, wildlife ecology, political science, physics and engineering, these students had to submit written applications for a coveted spot in the class. And unlike students in most classes, they are being paid a stipend to participate. 
Chronic wounds
UD's Millicent Sullivan and Kristi Kiick have received a $1.4 million grant from the National Institutes of Health for research that could provide a new approach to the treatment of chronic wounds.
Prof. Heck's legacy
The American Chemical Society is highlighting the legacy of the late Nobel laureate Richard Heck, the Willis F. Harrington Professor Emeritus of Chemistry at the University of Delaware with a digital tribute on its publications website.
That stipend comes with a string attached, however. The students must commit to leading activities outside of class that are related to research ethics, such as peer discussion groups, discussion sections with selected undergraduates, or meetings with their lab groups or departments.
"The math is pretty simple," says philosophy professor Tom Powers, one of three professors leading the seminar-style course. "We are leveraging the training these students receive to reach many more students involved in research across the University."
The "Responsibility and Integrity in Science and Engineering (RAISE)" program funds and trains advanced graduate students and postdocs as "ethics educators" to provide peer instruction. This unique approach to research ethics training at UD began as a National Science Foundation-funded pilot project in 2007, was continued thanks to a UD Graduate Program Improvement and Innovation grant in 2009, and is now funded by Delaware's NSF EPSCoR program. 
After three years, applications to join the class have increased to such an extent that Powers and his co-instructors, philosophy professor Mark Greene and oceanography professor Bill Ullman, have doubled the number of students in the class and are contemplating adding additional sections in the future.
"In January 2010, NSF implemented the research ethics requirements of the 2007 America COMPETES Act.  Now all students and postdocs on NSF-funded projects must have training and oversight in research ethics," Powers says, adding that the National Institutes of Health have required similar training for decades. "So we think this program puts UD at the forefront of universities in providing the training to meet and surpass these requirements."
These regulations provide a powerful incentive for expanding the class, according to Powers, who also directs the Science, Ethics and Public Policy program at UD. He hopes that eventually researchers from across the University will be able to use the program to strengthen their grant proposals to NSF and other federal funding agencies by citing that UD has a strong mechanism in place for training students in research ethics.
"We hope that every Ph.D. student at UD will eventually receive this semester-long, faculty-based training, and that the program will serve as a model for other universities," Powers says. "The fact that we had over 100 applicants for this semester's class shows that the RAISE concept is now well established at UD. Students know about it and think it's useful."
That sentiment is echoed by the students in the class who say they would highly recommend it to their peers.
"It is eye-opening to the potential pitfalls of research and provides resources in case you get in a bind," says Daniel Ragonesi, a mechanical engineering graduate student and one of last year's RAISE participants..
"Of course, this class can't give us all the answers," says biology student Carla Spence, a member of this year's class. "But it teaches us how to think about these issues and decide what could be done."
"It has made me think about research ethics in a different light — more than just some rules and procedures to follow," says Evan Bradley, a student in linguistics and cognitive science, "and far beyond the egregious misconduct examples that are given in a typical training."
Throughout the semester, the students ponder issues such as the falsification of results, fabrication of data, conflicts of interest in industry-funded research, vulnerability of whistle-blowers, plagiarism and improper attribution of authorship. Real-life examples keep the discussion lively.
"Unfortunately, new material we can use in class comes up all the time — it's an embarrassment of riches," says Powers. 
Some of the more recent examples include patient data being posted online in clinical trials or the revelation that in the late 1940s human subjects in Guatemala were deliberately infected with syphilis by U.S. Public Health Service researchers.
"While newsworthy and somewhat shocking, these high-profile cases are not always useful for understanding the complexity of research ethics, " he says. "We often find that the more interesting discussions stem from the hard cases, where there's more gray area."
As an example, Powers cites the case of a team submitting a research paper for publication that includes language from an earlier research proposal in which one of the original authors is no longer included as an author on the paper. In cases like this, different fields may have different standard practices, and even appeals to conventions in a field may not settle the ethical issues.
"Having students from so many different disciplines can make the conversation in class more difficult," says Powers, "but it can also make it richer as we discuss how different disciplines approach ethical questions."
"One of the most interesting parts of the RAISE course is hearing the perspectives of students from many different departments," says Spence. "Some of the practices that I thought were universal are actually quite different from field to field, such as the decision of who to list as an author on a paper, and in what order."
"The participation of students from diverse disciplines has actually enriched our concept of science," adds Sudarshan Dutta, a postdoc in plant and soil sciences. "We can get out of our own discipline and get a sense of the overall community of science and what every 'citizen' of the 'republic of science' needs to know." 
Questioned as to whether they had encountered ethical dilemmas in their own research, the students' reactions were mixed. Ragonesi said he hadn't encountered difficulties yet, which was "a testament to the high moral character of UD professors and students."
But Eric Best, who conducts research in the Disaster Research Center, had a different perspective. 
"Technology is leading to significant changes in academic research, and in-depth discussions are required to understand our roles and responsibilities as academics in an evolving environment," he said. "I have experienced ongoing ethical dilemmas in multiple lines of my research, and there have been many questions that are not addressed by a static policy document."
This is the kind of thinking that Powers and his fellow instructors want to encourage through the RAISE program and their Research Ethics course. They hope that each student will come away with the ability to weigh the issues and incorporate their insights into a personal code of conduct that will guide them safely through the sometimes muddy or rocky waters of their future careers and also to be prepared to help others and become mentors and leaders.
Powers invites UD faculty with a particular interest or experience in research ethics to contact him about potentially becoming a guest lecturer in the class. For more information about the RAISE program or course, contact Powers at tpowers@udel.edu or visit the program's webpage. 
Article by Beth Chajes
Photo by Kathy F. Atkinson