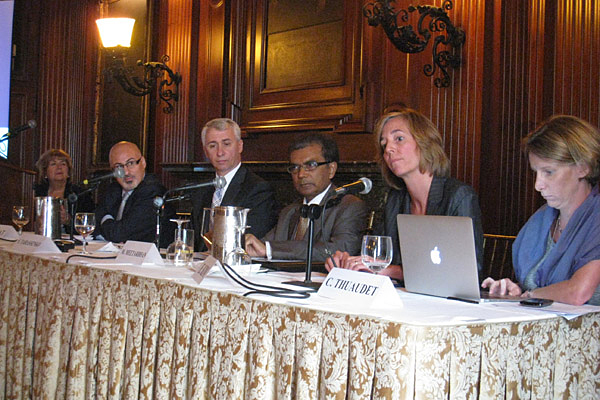 Oceans at the forefront
UD researchers advance sustainable development of oceans at global level
1:39 p.m., Oct. 6, 2011--More than 70 high-level participants, including United Nations ambassadors from Australia, Barbados, Fiji, Grenada, Mauritius, Nauru and Spain, as well as leaders of intergovernmental and non-governmental organizations, recently participated in a University of Delaware-organized workshop to discuss sustainable management of the world's oceans. 
Held in New York City on Sept. 12, the workshop served as a critical step in working toward a strong oceans outcome at international negotiations on sustainable development to be held next year.
Fulbright awards
Three University of Delaware students and an alumna have received word this spring that they will travel abroad as part of the newest class of Fulbright Student Program award winners.
Peace Corps plans
Two University of Delaware students, John McCarron and Bridgette Spritz, have been selected as Peace Corps volunteers and will serve in Ghana and Rwanda.
In 1992, the United Nations Conference on Sustainable Development in Rio de Janeiro (also known as the "Rio Conference" or "Earth Summit") launched a new global paradigm — the concept of sustainable development — that seeks to achieve environmental, social, and economic sustainability, and spawned a number of important global agreements. 
The World Summit on Sustainable Development in 2002 (also called "Rio+10") took the paradigm shift further by committing to specific targets and timetables to achieve the commitments made at the Earth Summit.
Twenty years after the Earth Summit, the world's governments will gather in Brazil for the June 2012 U.N. Conference on Sustainable Development (also called "Rio+20") to decide how to further advance sustainable development with a focus on the green economy, the international framework for sustainable development, and new and emerging challenges. 
Researchers at the Gerard J. Mangone Center for Marine Policy, in UD's College of Earth, Ocean, and Environment, are working to advance ocean issues leading up to Rio+20. Through events such as the Sept. 12 workshop, they are mobilizing stakeholders from all sectors to focus on the importance of oceans in tackling issues such as climate change and poverty eradication. 
The workshop, "Oceans at Rio+20: Discussions with UN Delegations," was co-organized by the Global Ocean Forum, which is led by Biliana Cicin-Sain, professor of marine policy and director of the Mangone Center, in collaboration with the Permanent Missions of Grenada, Fiji and the Seychelles to the United Nations and the Intergovernmental Oceanographic Commission (IOC-UNESCO), and with support from the Global Environment Facility, the UN Development Programme, and the University of Delaware.
At the workshop, participants shared perspectives on achieving a significant ocean outcome at the Rio+20 Conference, including a statement by Ambassador Peter Thomson of Fiji on behalf of the Pacific Small Island Developing States (SIDS). 
Thomson highlighted the importance of oceans to the health and well-being of small island nations and focused on three main priorities in the Rio+20 process: development aspirations, fisheries, and climate change. Participants also discussed various ocean initiatives to support the Rio+20 negotiations and emphasized that countries and civil society must work together to address critical ocean issues at the Rio+20 Conference.
The Global Ocean Forum plans to hold continued dialogues with governments and other stakeholders, as well as an "Oceans Day" event at the Rio+20 Conference in Brazil in 2012 to highlight oceans in the Rio+20 negotiations.
Photo by Ryan Ono