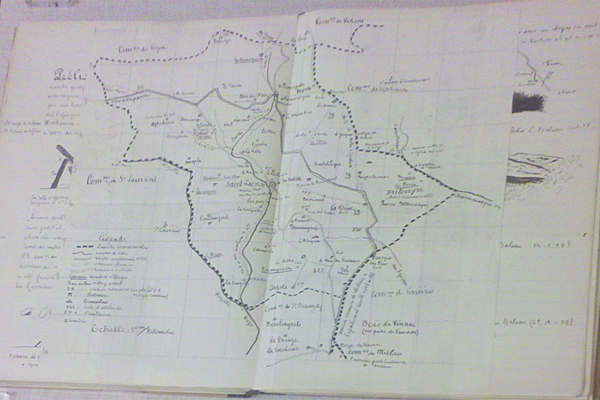 Archives Month exhibition
University Library exhibition features the 1949 'Merci' Train
10:06 a.m., Oct. 24, 2011--The University of Delaware Library announces a new exhibition in the single case near the Information Desk in the Information Room on the First Floor of the Morris Library, "American Archives Month – October 2011: The 'Merci' Train."
American Archives Month raises public awareness about the importance of historic documents and records in libraries, archives and Special Collections. 
From graduates, faculty
As it neared time for the processional to open the University of Delaware Commencement ceremonies, graduating students and faculty members shared their feelings about what the event means to them.
Doctoral hooding
It was a day of triumph, cheers and collective relief as more than 160 students from 21 nations participated in the University of Delaware's Doctoral Hooding Convocation held Friday morning on The Green.
The "Merci" Train was the French response to foreign aid relief that was sent to France during the aftermath of World War II. In 1949, individual French citizens donated enough gifts to fill 49 boxcars, which were then shipped to the United States.
A selection of the gifts from Delaware's boxcar was given directly to the University of Delaware Library.  These included "three manuscripts, beautifully bound copies of literary or artistic works, a history of France in a very limited edition, two small framed paintings, musical scores, silver coins, canceled paper currency and certain insignia of the Resistance forces." As the University of Delaware's student newspaper, The Review, reported, the gifts were put on display in the University Library on February 18, 1949. 
"American Archives Month – October 2011: The 'Merci' Train" was curated, designed and installed by Jaime Margalotti, senior assistant librarian, Special Collections Department. Anita Wellner, library assistant, worked on exhibition preparation, and Laurie Rizzo, assistant librarian, worked on the online version of the exhibition, which is available at this site.
About the Special Collections Department
Holdings of the Special Collections Department of the University of Delaware Library include books, manuscripts, maps, prints, photographs, broadsides, periodicals, pamphlets, ephemera and realia from the 15th to the 21st century. The collections complement the library's general collections with particular strengths in the subject areas of the arts; English, Irish and American literature; history and Delawareana; horticulture; and history of science and technology.