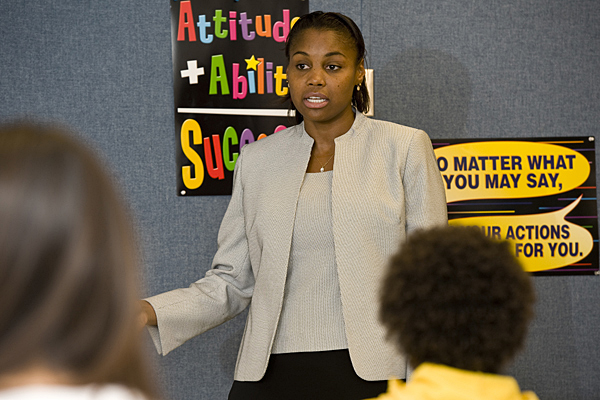 Concussion expert visits campus
Athletic training alum shares research and advice with UD community
3:36 p.m., Oct. 26, 2011--Tamerah Hunt, who earned her bachelor's degree in athletic training at the University of Delaware in 2000, returned to campus on Oct. 24 to share her research results with faculty and students in UD's Biomechanics and Movement Science (BIOMS) program.
Hunt, who is now assistant professor of clinical allied medical professions
at Ohio State University, delivered a lecture in UD's BIOMS seminar series. In her talk, "From the Field to the Clinic: The Adolescent Concussion Epidemic," she shared the work she is doing as director of research for the interdisciplinary OSU Sports Concussion Program.
'Resilience Engineering'
The University of Delaware's Nii Attoh-Okine recently published a new book with Cambridge University Press, "Resilience Engineering: Models and Analysis."
Reviresco June run
UD ROTC cadets will run from New York City to Miami this month to raise awareness about veterans' affairs.
According to Hunt, concussion has reached near-epidemic proportions in contact sports at both the professional and amateur levels, with an estimated 1.6 to 3.8 million sport-related concussions occurring in the U.S. every year. 
"Given the high numbers of youth athletes participating in sports, and given the potential for catastrophic injury following concussion, an understanding of research available following a concussive injury and the translation into clinical practice in youth athletes is extremely important," she said.
During an informal discussion session earlier in the day, Hunt told a group of athletic training students that, although she always wanted to teach, she was not initially excited about doing research. However, her work as a clinician sparked an interest in concussion. One case in particular—that of a collegiate volleyball player who was still "not quite right" six months after suffering an injury—was instrumental in directing Hunt's research focus on youth concussion assessment and management.
Since then, she has worked with high schools in several states examining recovery patterns, assessment strategies, co-morbidities and possible educational intervention in at-risk populations. 
"Now, I love the fact that I'm having a direct effect on high school athletes," she told. "As a result of our research, we've actually changed the clinical paradigm for how we assess concussion in Ohio."
Hunt, who still considers herself a Blue Hen, told the students to enjoy their time at UD and to take advantage of all that the University has to offer. "Learn as much as you can, not just in athletic training but across the board," she said. "Make mistakes, but make them here—that's how you learn."
"It was a pleasure welcoming Tamerah back to share her sport-related concussion research with the BIOMS group," said Prof. Thomas Kaminski, director of athletic training education at UD, "and her time spent sharing her UD experiences with our undergraduates was extremely beneficial. Tamerah has become the consummate professional."
In addition to a bachelor's degree from UD, Hunt holds a master's in kinesiology and athletic administration from James Madison University and a Ph.D. in exercise science from the University of Georgia.
Article by Diane Kukich
Photo by Kathy F. Atkinson