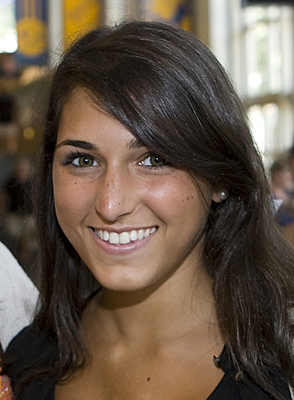 Most fashionable student
LOFT, Marie Claire select UD senior to style fashion show Nov. 1
2:26 p.m., Oct. 26, 2011--As a budding fashionista, seven-year-old Breanne Palmieri's favorite article of clothing was a blue pleather zip-up vest that she'd wear over dresses and accessorize with bright yellow shoes. 
"Looking back, it was horrific," admits the 21-year-old senior from Madison, N.J. "But when I'm getting dressed, I don't believe fashion should have rules. I never did."
'Resilience Engineering'
The University of Delaware's Nii Attoh-Okine recently published a new book with Cambridge University Press, "Resilience Engineering: Models and Analysis."
Reviresco June run
UD ROTC cadets will run from New York City to Miami this month to raise awareness about veterans' affairs.
It is such originality—a self-ascribed sense of style she calls "vintage, unexpecting and flattering"—that has earned Palmieri the title of "most fashionable college student" by LOFT and Marie Claire magazine.  
As one of four "Front Row College Challenge" winners, she will style a Marie Claire-produced fashion show, featuring head-to-toe LOFT looks, at 7 p.m., Tuesday, Nov. 1, in Mitchell Hall. The show will be judged by fashion director and Project Runway panelist Nina Garcia and other leading fashion experts. 
Sponsored by Marie Claire, LOFT and Rimmel London Cosmetics, the "Front Row Challenge" seeks to "reach the next generation of working women." More than 200 students vied for the opportunity to style a professionally produced fashion show on their campus, and Palmieri is now one of the four finalists who could receive a career-breaking internship at the Marie Claire, LOFT and Rimmel London offices next summer.
"We are trying to tap into the talent that we know exists at colleges across America, but what I really hope comes out of it is long-lasting relationships with the winners—women who embody the moxie of Marie Claire," says the magazine's editor-in-chief, Joanna Coles. 
The November fashion show, free and open to the public, will showcase a fall line of LOFT apparel, and include four outfits styled by the UD senior. 
Palmieri, who has studied art and architecture in Paris, is confident about the upcoming event. 
In August, she traveled to New York City with the three other finalists, touring the Marie Claire offices, meeting LOFT's chief style director and Rimmel's makeup experts, and spending an unforgettable half hour in the magazine's fashion closet, modeling never-before-seen fall collections from the world's most glamorous designers. "It was the highlight of the trip," she says. 
It was also during that two-day trip that Palmieri sorted through endless accessories and more than 200 tops and bottoms of various patterns and colors to create her four "Front Row Challenge" outfits. Now, she is in the process of selecting models and finalizing the looks for their makeup and hair. 
"It was an amazing experience," she says of her time in New York. "I had full say in my vision, and I can't wait to see it come to life in November."
And while Palmieri can't reveal much about the pieces for her show, she promises they will reflect her unique fashion sense. 
"I love to push the envelope and get creative," says the art-turned-fashion merchandising major. "I don't believe there are rules in fashion. I believe it's an art form."
Article by Artika Rangan