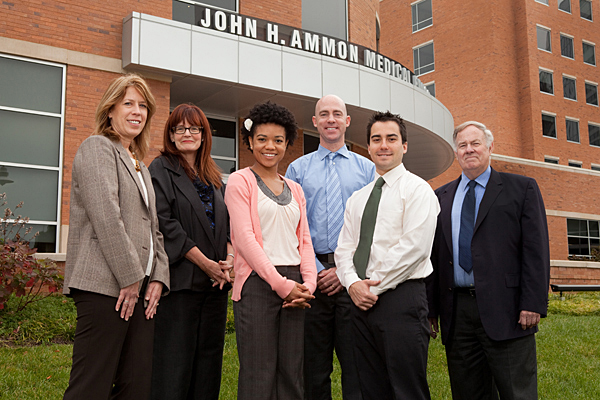 DHSA pilot grants
Alliance funds projects addressing hypertension, childhood cancer, autism
11:37 a.m., Oct. 28, 2011--The Delaware Health Sciences Alliance (DHSA) has selected three teams of investigators for funding through its pilot grant program.  The 18-month awards—for projects addressing hypertension, childhood cancer and autism—will start on Nov. 1.
Led by Daniel Elliott at Christiana Care Health Systems (CCHS), the first team will establish a better foundation for patients and physicians to work together in managing high blood pressure, or hypertension.
Chronic wounds
UD's Millicent Sullivan and Kristi Kiick have received a $1.4 million grant from the National Institutes of Health for research that could provide a new approach to the treatment of chronic wounds.
Prof. Heck's legacy
The American Chemical Society is highlighting the legacy of the late Nobel laureate Richard Heck, the Willis F. Harrington Professor Emeritus of Chemistry at the University of Delaware with a digital tribute on its publications website.
Previous studies have investigated either medication non-adherence, in which patients do not correctly follow prescribed medication regimens, or therapeutic inertia, in which providers do not intensify medications in the face of poor blood pressure control. This study will use linked pharmacy data to better understand the association between the two in routine practice.
Elliott's co-investigators include Joseph Couto (Thomas Jefferson University), Iman Sharif (Nemours/A.I. duPont Hospital for Children), Edward Ratledge (UD), and Terri Steinberg (CCHS).
The second team, led by Ayyappan Rajasekaran (Nemours), will study nanotechnology-based drug delivery for childhood leukemia.
While childhood cancer treatment regimens have improved over the past several decades, with the five-year survival rate now approaching 80 percent, many survivors are left with chronic health conditions as the result of treatment-related complications. This project is aimed at developing a nano-therapeutic mechanism to precisely deliver drugs to cancer cells, thereby minimizing the side effects that damage normal growing cells in children.
Rajasekaran will collaborate with Xinqiao Jia (UD), Scott Waldman (TJU) and Robert Witt (CCHS) on this project.
With Judith Ross (TJU) as the lead investigator, the third team will examine the effects of a genetic risk factor for autism spectrum disorder in boys with XYY.
One gene, NLGN4Y, is present on the Y chromosome and may be related to the male predominance for ASD. The researchers will test the hypothesis that boys with an extra Y chromosome manifest ASD cognitive and behavioral phenotypes, and they will also evaluate biological markers of autism.
Ross will collaborate with Eric Wickstrom, Matthew Thakur, and Diane Merry (TJU), David Colby (UD), Karen Gripp (Nemours), and Richard Fischer (CCHS) on this research.
About DHSA
The Delaware Health Sciences Alliance was established in 2009 with four founding partners—Christiana Care Health System, Nemours/Alfred I. duPont Hospital for Children, Thomas Jefferson University and the University of Delaware.
The alliance enables partner organizations to collaborate and conduct cutting-edge biomedical research, to improve the health of Delawareans through access to services in the state and region, and to educate the next generation of health care professionals.
DHSA's unique, broad-based partnership focuses on establishing innovative collaborations among experts in medical education and practice, health economics and policy, population sciences, public health, and biomedical sciences and engineering. For more information, visit the DHSA website.
DHSA pilot grants provide up to $75,000 for projects ranging from 12 to 18 months. Projects are selected based on scientific merit, the potential to lead to a larger proposal for National Institutes of Health (NIH) funding, and the ability of the research team, which must include at least one investigator from each member institution, to demonstrate successful collaboration among the four institutions.
Article by Diane Kukich
Photo by Ambre Alexander