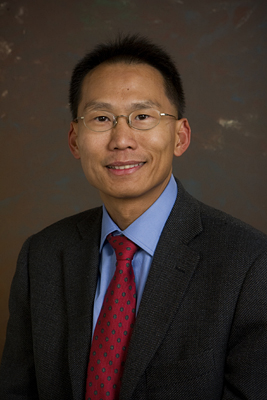 Nov. 2: Chen inaugural lecture
Chen to present inaugural lecture as Gore Professor of Chemical Engineering
1:48 p.m., Oct. 20, 2011--Wilfred Chen, who has been named the University of Delaware's Gore Professor of Chemical Engineering, will deliver his inaugural lecture at 4 p.m., Wednesday, Nov. 2, in 140 Smith Hall. 
Those planning to attend are asked to RSVP by calling 302-831-2401 or emailing engr-events@udel.edu. 
June 5: Blue Hen 5K
University of Delaware graduates planning to attend Alumni Weekend are encouraged to register for the annual Blue Hen 5K walk and run, which will be held Sunday morning, June 5.
June 6-9: Food and culture series
The 20th annual June Lecture Series at the Osher Lifelong Learning Institute at UD in Wilmington will be held June 6-9. Titled 'June a la Carte,' this year's program focuses on great political documents, feminism, world politics and a Newark cuisine sampler.
Chen's lecture is entitled "Biomolecular Engineering for Profit and Fun." A reception will follow in the lobby of P.S. du Pont Hall.
Chen joined UD in January, 2011. He hails from the University of California Riverside, where he was a professor of chemical and environmental engineering and served as Presidential Chair of Chemical Engineering from 2006-2010.
An experienced researcher dedicated to the innovation of new technologies, Chen's work involves harnessing energy from biological sources to cure diseases, purify protein pharmaceuticals and create bio-fuels. His research has been funded through the National Science Foundation, the U.S. Department of Energy and the Environmental Protection Agency, among others.
Chen has published more than 190 journal papers and delivered over 50 invited lectures. He serves on the editorial board for eight scientific publications and is a reviewer for more than 40 journals. 
He is a fellow of the American Association for the Advancement of Science (AAAS) and the American Institute for Medical and Biological Engineering (AIMBE).  He is also a member of the American Institute of Chemical Engineers (AIChE), the American Chemical Society (ACS) and the American Society of Microbiology (ASM).
Chen earned his bachelor's degree in chemical engineering at the University of California Los Angeles in 1988 and his doctoral degree in chemical engineering from the California Institute of Technology in 1993.  He also spent a year conducting post-doctoral research at the Institute of Biotechnology, ETH-Honggerberg, in Zurich, Switzerland, before he joined UC Riverside in 1994.
About the professorship
The Gore professorship honors the Gore family, including Robert W. Gore '59, Sarah I. Gore '76M and the late Genevieve W. Gore. Robert W. Gore, a 1959 chemical engineering graduate of UD, served as president of W.L. Gore and Associates, Inc., and was a member of the UD Board of Trustees. In 1990, Gore received the College of Engineering Distinguished Alumni Award and he was inducted into UD's Alumni Wall of Fame in 1992.
Article by Alyssa Cella
Photo by Ambre Alexander