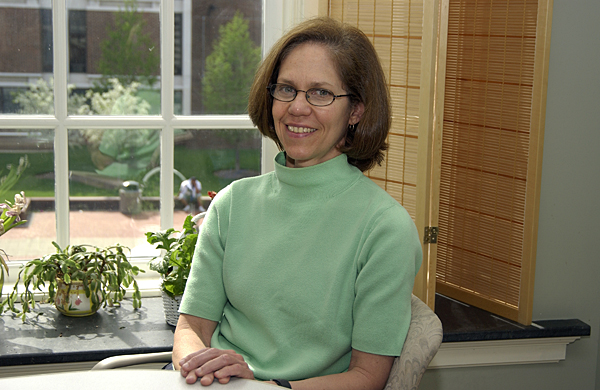 Fulbright Scholar grant
UD's Carothers receives Fulbright award to study in Hong Kong
1:41 p.m., Oct. 28, 2011--Martha Carothers, professor of art at the University of Delaware, has been awarded a Fulbright Scholar grant to the Fulbright Hong Kong General Education Project during the 2011-2012 academic year.
The award was announced recently by the U.S. Department of State and the J. William Fulbright Foreign Scholarship Board.
Fulbright awards
Three University of Delaware students and an alumna have received word this spring that they will travel abroad as part of the newest class of Fulbright Student Program award winners.
Peace Corps plans
Two University of Delaware students, John McCarron and Bridgette Spritz, have been selected as Peace Corps volunteers and will serve in Ghana and Rwanda.
Carothers will assist colleagues in Hong Kong universities to strengthen general education in the final year of preparation for the four-year curriculum transition. 
Carothers is one of more than 20 "Team Fulbright" American professors since 2008 to be associated with a Hong Kong host university. Carothers is associated with City University of Hong Kong.
"I'm enthralled by the city, culture, and current educational transition in Hong Kong," Carothers said. "This is an exciting opportunity to assist with general education at City University and share my UD experience as faculty director of the Center for Teaching Effectiveness and gen education initiatives. Hong Kong is fascinating and a city of density -- buildings, people and activity."
Through arrangements with the Hong Kong America Center, Fulbright scholars offer workshops and consultations on general education with universities in Hong Kong and Macau. 
The Po and Helen Chung Foundation, with matching funds from the Hong Kong University Grants Committee, has supported Hong Kong universities in launching their general education programs in the new 3-3-4 education reform.
Carothers is one of approximately 1,100 U.S. faculty and professionals who will travel abroad through the Fulbright U.S. Scholar Program in 2011-2012.
About Martha Carothers
A book artist, Carothers specializes in graphic design and book arts, with interests in typography, book design, bookbinding and letterpress printing. 
Her work has been exhibited nationally and internationally, and her books are part of numerous museum and library collections, including the Library of Congress, the Museum of Modern Art and Cooper-Hewitt Museum.
Carothers received a bachelor of arts degree and a master of fine arts degree from Penn State University. She joined the UD faculty in 1981.
Article by Neil Thomas