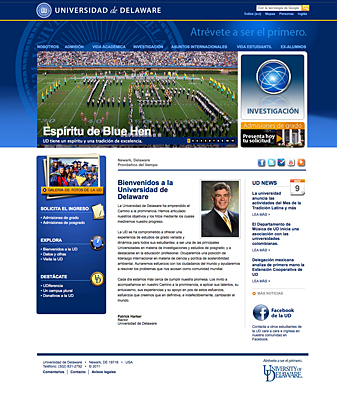 UD website in Spanish
University of Delaware launches Spanish-translated website
10:28 a.m., Nov. 14, 2011--The University of Delaware has launched a new website in Spanish that, at more than 100 pages strong, may be the most extensive university website translated into another language in the United States.
The website is designed to introduce or reintroduce audiences in Latin America — from prospective students and the academic community to corporations and international alumni — to the University, including UD's academics and research, international services, admissions and student life, according to David Brond, vice president for communications and marketing. 
Fulbright awards
Three University of Delaware students and an alumna have received word this spring that they will travel abroad as part of the newest class of Fulbright Student Program award winners.
Peace Corps plans
Two University of Delaware students, John McCarron and Bridgette Spritz, have been selected as Peace Corps volunteers and will serve in Ghana and Rwanda.
"The University's new website in Spanish is an important step in UD's continuing globalization and our goal to develop a more diverse campus community," Brond said. "We are pleased to launch this site, and we invite our Spanish-speaking friends in Latin America and around the world to join the UD family as we 'Atrevete a ser el primero' [Dare to be first]."
The University of Delaware has active educational partnerships with nearly 20 universities in Spanish-speaking Latin American nations, including Chile, Colombia, Ecuador, Mexico and Peru, according to Matthew Robinson, professor of business administration and director of UD's Institute for Global Studies.
"Having a website that welcomes Spanish-speaking visitors will help to foster these partnerships and establish new ones in research, teaching and service, continuing the momentum of the Global Initiative in the University's Path to Prominence and our goals to educate global citizens," Robinson noted. "It demonstrates UD's very real commitment and leadership in this area."
UD alumnus Alec Campbell, managing partner in NetGrowth Group, an Internet marking company, has been the chief consultant to the project, working with the UD project team of Tracey Bryant, associate director, David Barczak, senior art director, and Evan Krape, web developer, in the Office of Communications and Marketing.
Campbell received his bachelor of science degree with honors in economics with a minor in management information systems from UD's Alfred Lerner College of Business and Economics in 1992 and his MBA from the University of Pennsylvania's Wharton School of Business in 2001. 
"I've never come across an American university with a prominent portion of its website translated into Spanish or any other language," Campbell noted. "If the University of Delaware's translated website is not unique, it's certainly forward thinking."
Campbell's company, NetGrowth Group, enables clients to reach a global Internet audience through the design and optimization of multilingual web content.
"Through a process of translation, localization and search engine optimization, our goal is to improve our clients' visibility in international markets," Campbell said.
NetGrowth Group will now continue on with search engine optimization of the site, ensuring its high placement in relevant keyword searches conducted in Latin America. Completion of this final phase of the project is anticipated by the end of the year.
The project, which is launching during International Education Week at UD, was funded by the Unidel Foundation, which was founded in 1939 by Amy Elizabeth du Pont in memory of her father, Eugene du Pont, former head of the DuPont Co.