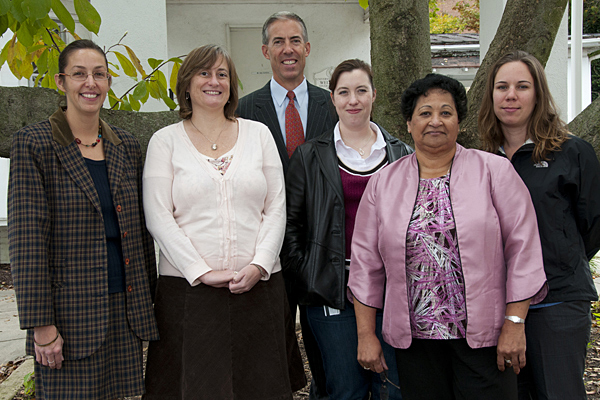 Violence reduction grant
UD, DSU receive grant to reduce gender-based violence on campus
11:14 a.m., Nov. 18, 2011--The University of Delaware and Delaware State University are recipients of a $498,130 grant titled "Innovative Partnerships to Reduce Gender-Based Violence on Delaware Campuses."
The three-year award is from the Grants to Reduce Sexual Assault, Domestic Violence, Dating Violence and Stalking on Campus Program. The grant, which became effective Oct. 1, is funded through the Office on Violence Against Women, a component of the U.S. Department of Justice. 
From graduates, faculty
As it neared time for the processional to open the University of Delaware Commencement ceremonies, graduating students and faculty members shared their feelings about what the event means to them.
Doctoral hooding
It was a day of triumph, cheers and collective relief as more than 160 students from 21 nations participated in the University of Delaware's Doctoral Hooding Convocation held Friday morning on The Green.
The grant submission committee included Pauline Meek, from Delaware State University's Counseling Center; Mark Seifert and Diana Palladino, both of the UD Department of Campus and Public Safety; Rebecca Fogerty, UD Office of Equity and Inclusion; and Nancy Chase and Angela Seguin, of the Wellspring Program at UD.
Seguin will serve as project director, Meek will manage project initiatives at Delaware State and Sandra Anderson, a contracts and grants specialist at UD, will be the financial point of contact.
Major goals include:
Ensuring the effective management of complaints or incidences of sexual assault, intimate partner violence and stalking by enhancing community partnerships and providing specialized training;
Improving victim services; and
Institutionalizing universal prevention education.
"The grant provides an exciting opportunity for UD and DSU to develop new collaborative relationships as we work together on campus initiatives, and to contribute to state-wide efforts to address gender-based violence in Delaware," Seguin said. "Not only will both campuses be able to create new and enhance existing services for victims, but students also will benefit from the launch of new strategies to prevent gender-based violence before it starts."
Among the grant provisions are an "Innovative Partnerships to Reduce Gender-Based Violence on Delaware Campuses" conference for Delaware colleges and universities. The conference, to be held at Delaware State for staff from all Delaware colleges and universities, will focus on topics of interest to persons involved in several areas, including student conduct and judicial affairs, residence life, student activities, student health, counseling and victim services.
Rebecca Fogerty, director of the UD Office of Equity and Inclusion, said that the grant gives the University and Delaware State more tools and resources to combat and more effectively respond to gender-based violence. 
"Creating a safe and inclusive environment takes enhanced partnerships, strengthening victim services and institutionalizing prevention education," Fogerty said. "This grant will allow us to continue to make real progress toward those goals." 
A "Responding to Campus Victimization: A Multi-Disciplinary Approach" conference, to be held at UD, will address issues of sexual assault, intimate partner violence and stalking, with a focus on campus victimization.
The conference will offer separate tracks for professionals in a variety of fields, including prosecutors, law enforcement, forensic nurses, and victim advocates and related areas. 
Training for detectives and key law enforcement professionals from the Newark, Delaware State and Dover and UD police departments who are responsible for investigating sexual assault or stalking also will be funded by the grant.
Mark Seifert, research administration manager in the UD Office of Campus and Public Safety, said the grant is an example of the department's continuing efforts to leverage federal funds to apply evidence-based practices that help prevent opportunities for such crimes to occur. 
"The Office of Campus and Public Safety looks forward to this partnership to prevent as well as to investigate incidences of sexual assault, intimate partner violence and stalking on campus," Seifert said. "We appreciate the confidence and support that the U.S. Department of Justice and the Office of Violence Against Women has extended to our team through this award, and will work diligently to share our research and deliverables with our colleagues across the state."
Article by Jerry Rhodes
Photo by Lane McLaughlin