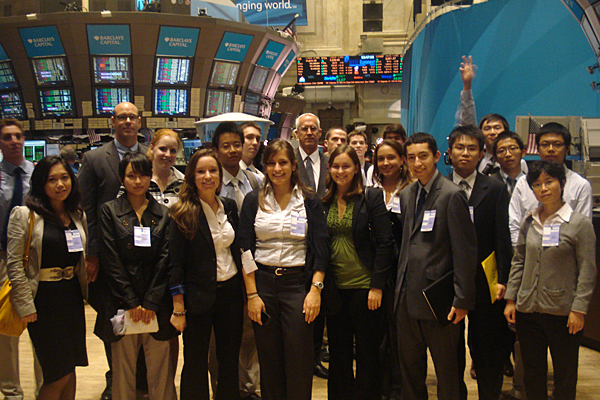 NYC trip
Lerner College students visit Wall Street, meet with alumni
11:29 a.m., Nov. 4, 2011--Although Occupy Wall Street demonstrations in New York City have become a popular draw for students from universities near and far, business students from the University of Delaware converged recently in the Big Apple for a different reason: to network with alumni and partake in behind-the-scenes tours of some of the financial districts' big players.
As part of the trip, 49 students lunched with UD alumni and visited JPMorgan Private Bank, Morgan Stanley, Bloomberg, the U.S. Commodity Futures Trading Commission (CFTC) and the New York Stock Exchange (NYSE).
From graduates, faculty
As it neared time for the processional to open the University of Delaware Commencement ceremonies, graduating students and faculty members shared their feelings about what the event means to them.
Doctoral hooding
It was a day of triumph, cheers and collective relief as more than 160 students from 21 nations participated in the University of Delaware's Doctoral Hooding Convocation held Friday morning on The Green.
Ron Akke, a senior honors student double majoring in economics and finance, said despite an early wakeup call and a long bus ride the trip was "completely worth it" for the opportunity to meet alumni.
"I enjoyed a small, very informal lunch with two recent graduates now employed by Goldman Sachs who were ready and willing to give true accounts of their experiences working on Wall Street," said Akke. "Seeing UD graduates in such high positions helped to show me the power of a UD degree."
Akke also called his experience on the NYSE "unmatched."
"Being able to go to the trading floor and speak one-on-one with professionals was an experience that will always stay with me and be one of my favorite moments associated with my studies at UD," he said.
Akke was part of a group of 26 students who did the downtown tour, which included a stop at JPMorgan hosted by Ed Bradley, a 1998 UD graduate; a visit with the acting regional administrator and regional counsel, a trade practice analyst, and a supervisory auditor at the CFTC; lunch with various alumni; and a visit to the NYSE.
Michael S. Geltzeiler, a 1980 accounting graduate who was recently named one of the 100 most influential people in finance by Treasury and Risk magazine, held a presentation for students at the NYSE.
Geltzeiler is CFO and group executive vice president of corporate finance at NYSE Euronext.
Another group of 23 students toured midtown, where they visited Bloomberg in the morning, lunched with alumni and then stopped by Morgan Stanley in the afternoon.
According to Tim Detwiler, instructor of finance and one of the guides for the day, students were given an informative tour of the Bloomberg facility by associate Tim Griffin followed by an overview of the Bloomberg information system.
"One of the associates was Thomas Keen, a former student of mine who graduated from UD two years ago," said Detwiler. "It was wonderful for me to see the success and professional maturing he has gained. I believe he was pretty excited to see the UD students."
Edmond Sannini, managing director and global audit director, hosted the group at Morgan Stanley.
"He gave the students an outstanding one and a half hour presentation and question and answer period," said Detwiler. "The students could not have asked for a better introduction to a company."
Sannini, who graduated from UD in 1978 with a bachelor's degree in accounting, was honored with the Lerner College 2010 Alumni Award of Excellence.
On top of being grateful for the chance to meet with alumni, students also appreciated the commitment of the faculty.
"I know it's not the easiest task to guide a group through midtown and it really shows Prof. Detwiler's care for student success," said Patrick J. Conroy, a sophomore who is double majoring in finance and economics.
"Prof. Detwiler is a prime contributor to the Lerner College's progression among the nation's elite undergraduate business schools and I greatly appreciate his effort," said Conroy.
Rich Jakotowicz, director of the Exelon Trading Center and instructor of finance, and John Stocker, assistant professor of finance, also served as faculty guides for the NYC trip.
The Department of Finance in the Lerner College of Business and Economics has sponsored trips to New York City's financial districts since the early 1980s in order to give students a hands-on educational experience with financial markets and the opportunity to meet with UD alumni in the business.
In 2001, Jeff Harris, professor of finance, took over coordination of the outing and expanded the number of trips to two per year.
A smaller trip is offered in the spring semester, similar to the downtown tour held this fall. Past locations visited include the NASDAQ Stock Market, Protiviti, Northwestern Mutual Life Insurance Co., NYMEX, AMEX, National Securities Corporation, Deutsche Bank, Archeus Capital, Bear Stearns and Moody's.
Students interested in participating in future trips should contact Arlene Hitchens at hitchena@udel.edu.