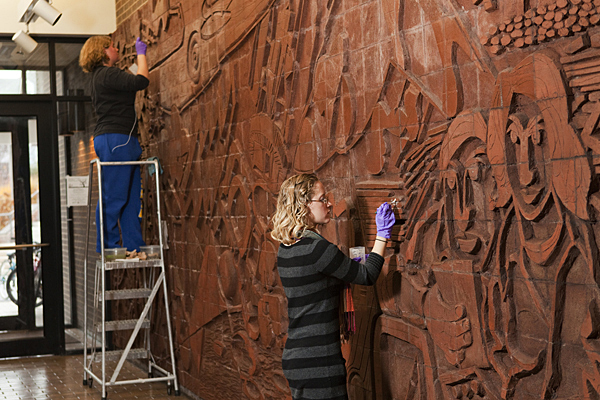 Mural shines again
Art conservators, students refurbish Spencer Lab showpiece
2:18 p.m., Nov. 28, 2011--In 1983, when University of Delaware art alumnus Bernard Felch created a terra cotta mural that celebrates the history of aeronautics and adorns the hallway of Spencer Lab on campus, he finished the piece by applying a glossy coating.
Over the years since the carved bricks were installed on the wall inside the mechanical engineering building's entrance, however, the mural gradually became dull and cloudy as particles of dust and other pollutants marred the coating. A leak in a nearby skylight added to the damage.
From graduates, faculty
As it neared time for the processional to open the University of Delaware Commencement ceremonies, graduating students and faculty members shared their feelings about what the event means to them.
Doctoral hooding
It was a day of triumph, cheers and collective relief as more than 160 students from 21 nations participated in the University of Delaware's Doctoral Hooding Convocation held Friday morning on The Green.
Now, through the efforts of UD art conservation alumni and students, the mural is being cleaned and restored to its original appearance. Through a painstaking process using sponges, small brushes and a special solvent, the old coating is being removed and will be replaced with a finish designed to avoid trapping dirt.
"This is a great hands-on, collaborative project for students to work on," said Kaitlin Andrews, a 2011 art conservation and art history graduate, who now works at Winterthur Museum and is helping to supervise the mural project. "It's basic conservation work on an interesting piece, and students can see that the work we're doing is making a difference."
Undergraduate students of Vicki Cassman, assistant professor of art conservation and the department's director of undergraduate studies, are working on the project, which is coordinated by Joyce Hill Stoner, Rosenberg Professor of Art Conservation and director of the Preservation Studies Doctoral Program at UD. 
"I've always loved art, but I also like science and history, so I wanted a career that went beyond being an artist," said Rebecca Selig, a freshman in Cassman's art conservation class who is working on the mural. "Art conservation is a great way to combine art and science, and I'm hoping that getting experience with this project will help me get some kind of art conservation work this summer."
The 10-by-25.5-foot mural was created from blocks of clay, each measuring about 7 inches square, which Felch had specially made in York, Pa. By keeping the bricks damp while he worked, he used kitchen knives and other tools to carve each one with its part of the design he had sketched out for the finished piece. Each brick was numbered, to identify its place in the final mural, and then was fired and brought to Spencer Lab, where the blocks were assembled on the wall.
The mural traces the history of 20th century aeronautics, from the image of an early airplane to ones of an astronaut and a satellite. The piece is dedicated to Grover Cleveland Loening, who in 1914 became the U.S. Army's first aeronautical engineer and designed aircraft that played key roles in World Wars I and II.
Felch earned his master of fine arts degree at UD in 1968 and went on to teach and head the art department at nearby Lincoln University. He died in 2008.
Article by Ann Manser
Photo by Ambre Alexander