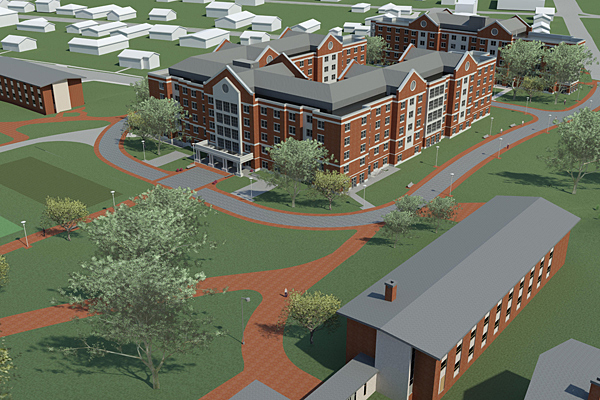 East Campus update
Construction starts on East Campus residence halls
12:47 p.m., Nov. 17, 2011--University of Delaware Facilities Planning and Construction has announced that construction on the East Campus residence halls began this week, with the appearance of the contractor's trailer near the ROTC building on Wyoming Road.
In order to accommodate student schedules, construction hours will be from 8 a.m. to 4:30 p.m., Monday through Friday.  Construction will be completed in July, 2013.
June 6: UDid It! Picnic
All UD faculty and staff members are invited to attend the annual UDid It! employee appreciation picnic, set from 11 a.m.-1:30 p.m., Monday, June 6, on The Green.
2FA protects you
If you are using two-factor authentication (2FA), even if a hacker has your password, your information is probably safe.
This project has been designed to greatly improve freshman student housing.  The two new residence halls will be five stories high and located on the east end of Harrington Beach.  They will house 767 first-year students, as well as offices for Residence Life and Housing Assignment Services, and amenities for the entire East Campus residential complex.  
During the month of November, members of the campus community can expect to see the construction fence, security cameras, wells to draw down the water table during excavation and relocation of the pedestrian walk that runs from Wyoming Road to Harrington, as well as pathway lighting and blue phones.  Eleven trees will be transplanted near the Bob Carpenter Center.  Trees that are too large to move, are unhealthy, or are located over utility lines will be removed.  Excavation of the basements will begin later in November.
The path from the intersection of Benny and Chambers streets to Russell Hall will be closed.  Pedestrians coming to campus from Chapel Street should use Wyoming Road or Lovett Avenue.
Facilities Planning and Construction has held meetings on campus with students and staff to describe the project and answer questions, and plans to continue their outreach.  If you have any questions, please contact Alexine Cloonan, project manager, Facilities Planning and Construction, at 831-0097 or at acloonan@udel.edu.