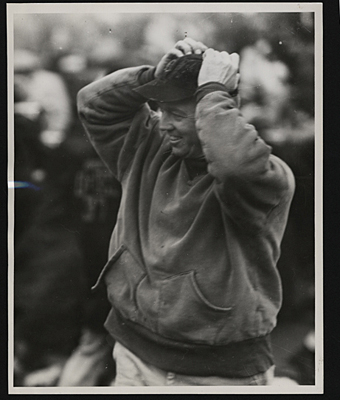 'Coach Nelson' remembered
University Library announces exhibition 'Coach Dave Nelson'
10:24 a.m., Nov. 2, 2011--The University of Delaware Library has announced the opening of a new exhibition in the single case in the Information Room on the first floor of the Morris Library entitled "Coach Dave Nelson: A Tradition of Excellence." The exhibition will be on display through Wednesday, Nov. 30.
In celebration of UD's Homecoming, Nov. 11-13, the exhibition honors former Delaware football coach David M. Nelson. From 1951until 1966, Nelson, whose nickname was "the Admiral," established a gridiron dynasty which won three Lambert Cups and the UPI national small college championship in 1963. 
From graduates, faculty
As it neared time for the processional to open the University of Delaware Commencement ceremonies, graduating students and faculty members shared their feelings about what the event means to them.
Doctoral hooding
It was a day of triumph, cheers and collective relief as more than 160 students from 21 nations participated in the University of Delaware's Doctoral Hooding Convocation held Friday morning on The Green.
During Nelson's 40 years as a UD administrator, including dean of the College of Physical Education, Athletics and Recreation (1981-1990), the athletic program was strengthened and expanded, and a 75-acre intercollegiate athletics complex was created. 
Nelson also served in many capacities with the National Collegiate Athletic Association but, above all else, he was a nationally recognized expert on intercollegiate football rules, serving on the NCAA Football Rules Committee for 35 years and as the committee's secretary-editor from 1962 until his death in 1991. On exhibition will be his portrait, writings, programs, newspaper clippings and other significant ephemera.
"Coach Dave Nelson: A Tradition of Excellence" was curated, designed and installed by Anita Wellner, library assistant, Special Collections Department. Assistant Librarian Laurie Rizzo, also of Special Collections, worked on the virtual exhibition.
The exhibition is available online at this website.