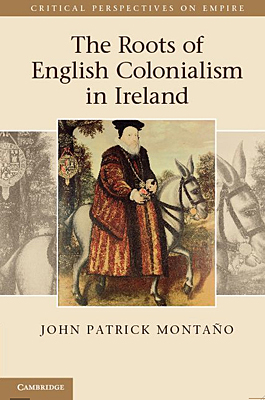 Books in Brief
Cambridge publishes book on English colonialism in Ireland
10:21 a.m., Nov. 18, 2011--The Cambridge University Press series "Critical Perspectives on Empire" is now featuring a new book by John Patrick Montaño, professor of history at the University of Delaware, titled The Roots of English Colonialism in Ireland.
This is a major new study of the cultural foundations of the Tudor plantations in Ireland and of early English imperialism more generally. Montaño traces the roots of colonialism in the key relationship of cultivation and civility in Tudor England and shows the central role this played in Tudor strategies for settling, civilizing and colonizing Ireland. 
From graduates, faculty
As it neared time for the processional to open the University of Delaware Commencement ceremonies, graduating students and faculty members shared their feelings about what the event means to them.
Doctoral hooding
It was a day of triumph, cheers and collective relief as more than 160 students from 21 nations participated in the University of Delaware's Doctoral Hooding Convocation held Friday morning on The Green.
The book ranges from the role of cartography, surveying and material culture -- houses, fences, fields, roads and bridges -- in manifesting the new order to the place of diet, leisure, language and hairstyles in establishing cultural differences as a site of conflict between the Irish and the imperializing state and as a justification for the civilizing process. 
It shows that the ideologies and strategies of colonization that would later be applied in the New World were already apparent in the practices, material culture and hardening attitude toward barbarous customs of the Tudor regime.
Montaño received his bachelor's degree from the University of California at Santa Barbara followed by a master's degree and Ph.D. from Harvard University.
He teaches early modern English and Irish history at UD and serves as the head of Irish Studies as well as director of European Studies. He joined the University in 1994.
Montaño's publications include Courting the Moderates: Ideology, Propaganda and the Origins of Party in Restoration England, along with articles on English and Irish history.
In other book news:
Chris Barthold, a researcher with the Center for Disabilities Studies, is co-author of the book School Success for Kids with Autism, which will be published in December by Prufrock Press. Barthold wrote the book with Andrew Egel of the University of Maryland and Katherine C. Holman of Towson University. 
The book describes how parents and teachers can work together to create nurturing, supportive and effective classroom environments from preschool to high school. 
Topics include a general overview of autism spectrum disorders (ASD); how schools assess and define ASD; general instructional strategies for students with ASD; targeted interventions for early childhood, elementary and secondary students with ASD; and fostering family and school partnerships.
For inclusion in UD Books in Brief, send information to ud-ocm@udel.edu.