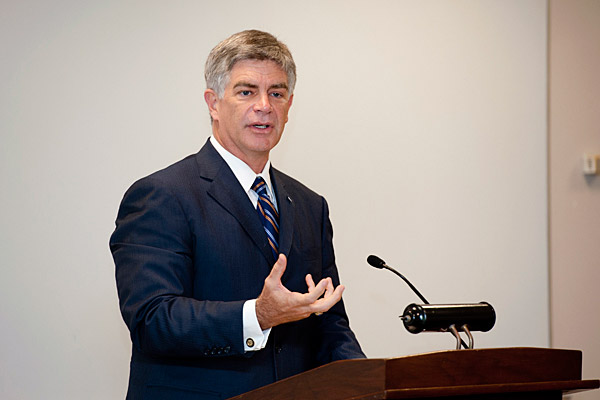 UDARF: 'State of UD'
President Harker discusses 'State of University' with UD retired faculty
11:41 a.m., May 14, 2012--President Patrick Harker gave his "State of the University" presentation to members of the University of Delaware Association of Retired Faculty at the group's regular luncheon, held Wednesday, May 9, in Clayton Hall.
Topics included the next class of UD students who will be coming to campus for the first time this fall, a continued focus on diversity initiatives and major campus building projects.
From graduates, faculty
As it neared time for the processional to open the University of Delaware Commencement ceremonies, graduating students and faculty members shared their feelings about what the event means to them.
Doctoral hooding
It was a day of triumph, cheers and collective relief as more than 160 students from 21 nations participated in the University of Delaware's Doctoral Hooding Convocation held Friday morning on The Green.
"The Class of 2016 had a record 26,683 applicants, and 1,287 are Delawareans," Harker said. "This is a testament to the power and effectiveness of the University's Commitment to Delawareans program." 
The Commitment to Delawareans gives middle and high school students and parents in the First State information on what courses and grades they will need to be admitted to the University's Newark campus.  
It also pledges to meet the full demonstrated financial need -- up to the cost of in-state tuition, fees, a stipend for books and on-campus room and board -- of all Delawareans who file the Free Application for Federal Student Aid (FAFSA) by the deadline.
Through diversity efforts and an academically stronger pool of prospective students, UD offered admission to 287 Hispanic students and 252 African-American students, with both numbers significantly higher than the previous year, Harker said.
"It's true that every year is better than the last in high-achievers, underrepresented students and resident students," Harker said. "We had more admissible students than ever before, giving us flexibility to focus on a student's special talents and life experiences."
To continue to attract the very best students, the University continues to hire first-choice faculty despite tough economic times, Harker said.
"Faculty drive the quality of our programming, the competitiveness of our research and the desirability of our students," Harker said. "Our investment in faculty hasn't wavered and won't." 
Harker also noted that building a more inclusive University community continues apace with the President's Diversity Initiative and the Center for the Study of Diversity.
Margaret Andersen, associate provost and Edward F. and Elizabeth Goodman Rosenberg Professor of Sociology, serves as executive director for the President's Diversity Initiative. 
James Jones, professor of psychology and Black American Studies, is director of the Center for the Study of Diversity. A scholarly think tank, the center conducts research while helping UD find the best ways to support campus diversity.
Retired faculty members also were briefed on the continuing transformation of the University's physical plant via multiple major construction projects and groundbreaking for a new tenant on a newly named campus.
"Five years ago, we undertook a Campus Capacity Study based on building a connected campus and a collaborative culture promoting meaningful student engagement," Harker said. "We wanted to maximize our research capacity and encourage more interdisciplinary scholarship."
The study also called for creative open space preservation, natural resource conservation and making environmentally safe, sustainable growth a top priority, Harker said. 
Major construction projects supporting these goals include:
The 194,000-square-foot Interdisciplinary Science and Engineering Laboratory;
The 15,000-sqare-foot Life Sciences Research Building;
Alison Hall renovation;
Two residence halls on East Campus that will be home to 767 first-year students; and 
A 45,000-square-foot addition to the Carpenter Sports Building that will triple workout space and accommodate better exercise equipment.
Another University milestone was achieved with the groundbreaking ceremony for the Bloom Energy Manufacturing Center, located on the recently renamed Science, Technology and Advanced Research (STAR) campus on the site of the former Chrysler auto plant. 
"With this groundbreaking, we celebrated jobs, 900 direct jobs and 1,500 total if Bloom's contractors pursue proximity," Harker said. "We came together as a community to assure economic strength through cutting edge science, technology, invention and innovation."
The new name for the campus echoes the star logo of the Chrysler brand, giving a respectful nod to 60 years of manufacturing on the 272-acre site, Harker said, while committing to a future that will include biomedical and clinical research and education.
"This year, with land-grant universities across the United States, we celebrate the 150th year of that charter," Harker said. "The STAR Campus is our land-grant mission in action." 
The talk was followed by a question-and-answer period.
Article by Jerry Rhodes
Photo by Kathy F. Atkinson