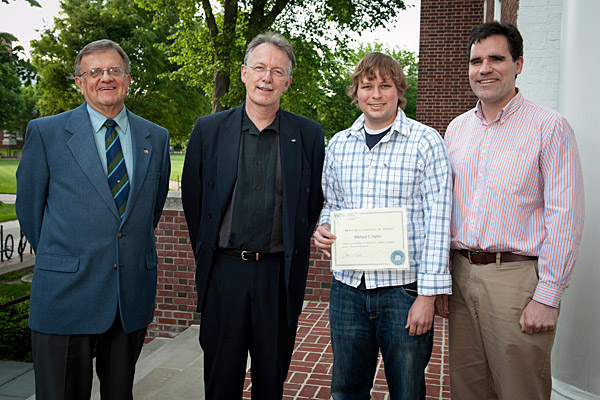 Hackley Award
Chemistry graduate student presented annual research honor
10:19 a.m., May 24, 2012--Michael Taylor, a doctoral student in the Department of Chemistry and Biochemistry at the University of Delaware, has received the fourth annual Brennie E. Hackley, Jr. Award for Excellence in Research.
Taylor, who works in the research group of Joseph M. Fox, professor of organic chemistry, is the co-author of five refereed research publications. He was presented the Hackley Award on May 11, just before the University's annual Richard F. Heck Lecture.
National Medal of Science
President Barack Obama recently presented the National Medal of Science to University of Delaware alumnus Rakesh Jain.
Warren Award
Rosalind Johnson, assistant dean for student success in the NUCLEUS Program in UD's College of Arts and Sciences, was presented the John Warren Excellence in Leadership and Service Award during a May 26 ceremony.
The award honors the career of Dr. Hackley, who in 1957 became UD's first African American doctoral graduate in chemistry. His 57-year career at the U.S. Army Medical Research Institute for Chemical Defense in the Edgewood Laboratories at Aberdeen (Md.) Proving Ground culminated in his becoming chief scientist there.
His research on developing medical antidotes for chemical warfare agents produced 75 publications and 15 U.S. patents and earned him the federal government's Exceptional Civilian Service Medal after his death in November 2006. His daughter, Dr. Michele Hackley Johnson, who earned her bachelor's degree in chemistry at UD in 1976, is the director of interventional neuroradiology at the Yale University Medical School.
Photo by Kathy F. Atkinson