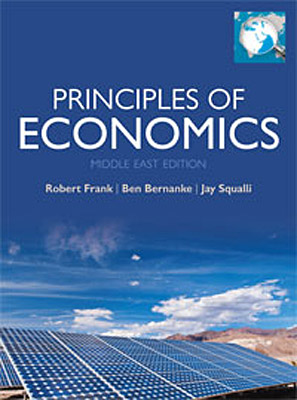 Popular economics
Lerner College alum co-authors best-selling economics textbook
8:52 a.m., May 10, 2012--Jay Squalli, a 2004 graduate of the University of Delaware, recently co-authored the Middle East edition of Principles of Economics, one of the best-selling textbooks in the field of economics.
Squalli, who received his doctorate in economics from the Alfred Lerner College of Business and Economics and is currently an associate professor of economics at the American University of Sharjah (AUS) in United Arab Emirates, was invited by McGraw-Hill to co-author the text with Robert H. Frank, professor of economics at Cornell University, and Ben S. Bernanke, chairman of the Federal Reserve and former professor of economics at Princeton University.
'Resilience Engineering'
The University of Delaware's Nii Attoh-Okine recently published a new book with Cambridge University Press, "Resilience Engineering: Models and Analysis."
Reviresco June run
UD ROTC cadets will run from New York City to Miami this month to raise awareness about veterans' affairs.
The popular textbook hit shelves just about two months ago.
Squalli worked in wholesale and retail management, consulting and oil distribution prior to becoming a professor and attributed his preparedness for both academic and nonacademic careers to the Lerner College program's emphasis on applied research.
"Without a doubt the applied nature of UD's graduate program, my interactions with UD economics faculty and classmates, and my teaching at UD have been essential ingredients for my current career situation," said Squalli.
Before he began at AUS in 2008, Squalli taught undergraduate and graduate courses in economics at UD as well as at Al Akhawayn University in Morocco, and the American University in Dubai and Zayed University, UAE. 
"My teaching interests and skills took shape at UD and the writing in this textbook clearly reflects that," said Squalli.
Apart from the Principles of Economics, Squalli has conducted extensive research for a variety of subjects including airline safety, airline advertising, growth competitiveness, international trade, energy and ecology and various topics related to the Middle East. 
His publications include a paper co-authored with Kenneth Wilson that introduced a new measure of trade openness (The World Economy, 2011), an assessment of the relationship between immigration and environmental emissions (Ecological Economics, 2010), and an analysis of the exchange rate regime of the largest economies of the Gulf Cooperation Council (Journal of International Financial Markets, Institutions and Money, 2011).
Squalli expressed gratitude for having the opportunity to work on Principles of Economics and is already preparing for the second Middle East edition of the book.
Article by Arianne Minch