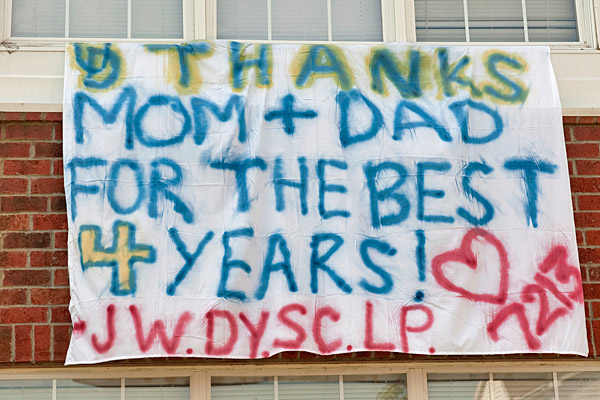 Class of 2012 competition
Alumni Relations sponsors Class of 2012 spirit sheet contest on Facebook
11:26 a.m., May 9, 2012--As graduation nears, seniors at the University of Delaware often decorate their homes and apartments with sheets sharing sentiments to their parents for their support and to the University and friends for memories made.  The Office of Alumni Relations plans to honor seniors showing their "Blue Hen forever" pride and to encourage some friendly competition with a Class of 2012 spirit sheet contest on Facebook.
All seniors who are interested in participating in this competition can post a photo of their decorated sheets on the UD Office of Alumni Relations Facebook wall no later than May 24. 
From graduates, faculty
As it neared time for the processional to open the University of Delaware Commencement ceremonies, graduating students and faculty members shared their feelings about what the event means to them.
Doctoral hooding
It was a day of triumph, cheers and collective relief as more than 160 students from 21 nations participated in the University of Delaware's Doctoral Hooding Convocation held Friday morning on The Green.
The photo with the most number of "likes" by May 26 will be named the Best Class of 2012 Spirit Sheet and will win a mystery prize.
The Office of Alumni Relations has 30 free sheets available on a first-come, first-served basis to seniors who would like to participate. Sheets can be picked up at the George Evans House, 5 W. Main St., weekdays from 8:30 a.m.-5 p.m., from May 16-23.
Office of Alumni Relations
The Office of Alumni Relations is the chief liaison between the University and the worldwide alumni body of more than 151,000 living alumni represented by the UD Alumni Association. Alumni Relations coordinates major events such as Alumni Weekend, Homecoming and prestigious alumni awards. The office also manages all volunteers and events for the regional alumni clubs across the country and is charged with creating new and exciting programs while maintaining current traditions. For more information, visit www.UDconnection.com.
Photo by Kathy F. Atkinson