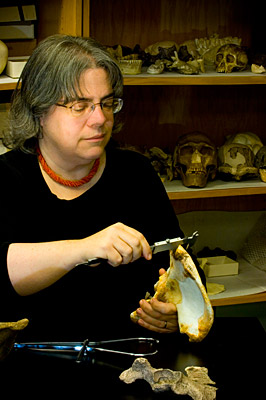 Anthropology leadership
Rosenberg elected president of American Association of Physical Anthropologists
2:43 p.m., May 16, 2012--Karen Rosenberg, professor and chair of the University of Delaware's Department of Anthropology and a specialist in the evolution of birthing, has been elected president of the American Association of Physical Anthropologists (AAPA).
The 1,700-member association is the world's leading professional organization for physical anthropologists, who are biological scientists dealing with the adaptations, variability and evolution of human beings and their living and fossil relatives. Physical anthropology also is a social science because it studies human biology in the context of culture and behavior.
'Resilience Engineering'
The University of Delaware's Nii Attoh-Okine recently published a new book with Cambridge University Press, "Resilience Engineering: Models and Analysis."
Reviresco June run
UD ROTC cadets will run from New York City to Miami this month to raise awareness about veterans' affairs.
Rosenberg previously served as vice president, scientific program chair and executive committee member of the AAPA. She became president-elect at the organization's annual meeting last month and will begin her two-year term as president in April 2013.
A highlight of this year's annual meeting was an "open lab" in which attendees brought casts of fossils from their research to share with their colleagues—an unusual occurrence in the field. Rosenberg was the driving force behind the event, which was praised in a May 8 Scientific American blog as "how science is supposed to work." 
One of the leading researchers on the evolution of birthing in modern humans and their ancestors, Rosenberg has made significant contributions to anthropology and related fields of medicine. She has been on sabbatical leave this academic year and currently is studying fossil finds in Beijing, China, for evidence about the development of early modern humans.
Photo by Jon Cox