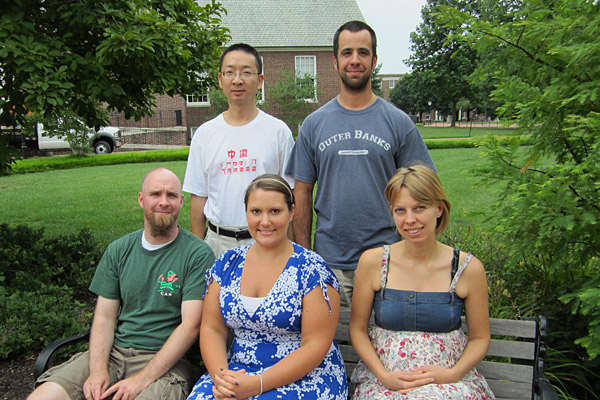 Ph.D. career prep
Putting Your Ph.D. to Work career institute set July 23-27
2:48 p.m., May 10, 2012--Preparing University of Delaware doctoral students and postdoctoral scholars for the academic career path is the goal of a week-long summer institute at the University of Delaware, set for July 23–27.
Given the institute's discussion-based focus and individually tailored feedback, enrollment is capped at 12 participants. The application deadline is June 18.
Now in its fourth summer, the Putting Your Ph.D. to Work institute is presented by the Center for Teaching and Assessment of Learning (CTAL) and the Career Services Center (CSC), in co-sponsorship with the Office of Graduate and Professional Education. The institute will be co-taught by Gabriele Bauer of CTAL and Marianne Green of CSC, and the program content reflects their complementary expertise. Participants' successful completion of the institute will be recorded on their official transcript as UNIV 608.
June 6: UDid It! Picnic
All UD faculty and staff members are invited to attend the annual UDid It! employee appreciation picnic, set from 11 a.m.-1:30 p.m., Monday, June 6, on The Green.
2FA protects you
If you are using two-factor authentication (2FA), even if a hacker has your password, your information is probably safe.
The institute, building on the success of past programs, will focus on two primary goals: preparation for the academic job search process, and acculturation and successful transition into the first year of a faculty appointment. 
The morning sessions will provide a framework for approaching the academic job search and preparing for faculty careers at a range of institutions; the afternoon sessions will center on authoring academic job application documents such as the CV, cover letter, research statement and teaching statement, and refining documents guided by instructor and peer feedback.
"For the first time I really looked at how and why I teach the way I do. I had to put my philosophy into words and express it in my teaching statement. The assignments and feedback helped me put together a strong document," observed a participant last summer. 
Others noted that the institute "pushed" them to take a closer look at their CVs and other documents, and motivated them to make important changes. 
"Sharing with peers, who were going through the same process, was very helpful and motivating," stated another participant.
Eligible for the program are doctoral students who are one to two years away from completing their academic programs (i.e., have completed their coursework and passed their qualifying exams) and postdocs who have begun to prepare for the academic job market. HETC Fellows are not eligible to apply.
The application is downloadable from this website. The application deadline is Monday, June 18. For more information, contact Gabriele Bauer at gabriele@udel.edu.