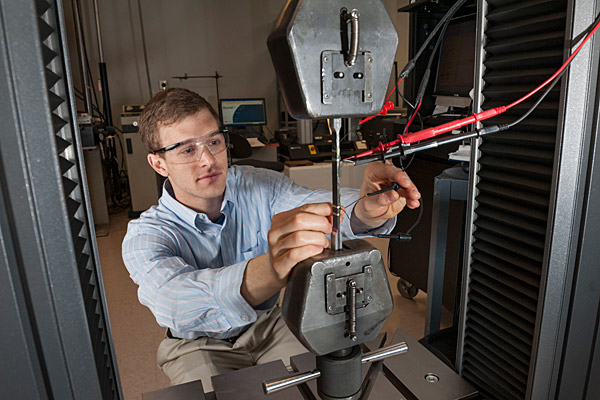 Miracle materials
Grad student wins defense fellowship to develop multifunctional composites
10:08 a.m., May 14, 2012--Nanomaterials may be small, but they offer a tremendous range of properties and possible applications. Carbon nanotubes can provide the foundation for multifunctional structures that sense and heal damage within themselves while also serving other roles such as energy storage, thermal management, and electromagnetic interference shielding.
Zachary Melrose, a doctoral student in mechanical engineering at the University of Delaware, plans to exploit that potential in his doctoral research at UD's Center for Composite Materials. Melrose, from Voorhees, N.J., has been awarded a prestigious National Defense Science and Engineering Graduate (NDSEG) Fellowship to support his development of multifunctional structural composites through the selective integration of nanomaterials in composites. He is advised by Erik Thostenson, assistant professor.
Chronic wounds
UD's Millicent Sullivan and Kristi Kiick have received a $1.4 million grant from the National Institutes of Health for research that could provide a new approach to the treatment of chronic wounds.
Prof. Heck's legacy
The American Chemical Society is highlighting the legacy of the late Nobel laureate Richard Heck, the Willis F. Harrington Professor Emeritus of Chemistry at the University of Delaware with a digital tribute on its publications website.
"The current approach to in-situ damage sensing involves uniformly dispersing carbon nanotubes throughout the composite to create an electrically conductive network," Melrose explains. "I plan to extend that approach through selective modification to produce a material with a controlled hierarchy. In contrast to the current single-sensor approach, the controlled structure would create a nerve-like network of sensors."
Melrose is currently investigating two different processing techniques. He also plans to explore alternative materials, including graphene, a one-atom-thick film of carbon with exceptional strength, flexibility, and electrical conductivity.
Melrose's doctoral work builds on undergraduate research he conducted at CCM, also under Thostenson's advisement, and he credits the interdisciplinary environment at the center with igniting his interest in research and motivating him to earn a graduate degree. He and two other 2011 mechanical engineering graduates are the latest in a long line of CCM alumni whose academic and career paths were influenced by their experience as undergraduates at the center. 
Sarah Friedrich, from Finksburg, Md., and Anthony Coppola, from Vernon, N.J., are among four alumni from the UD Class of 2011 who were awarded competitive National Science Foundation Graduate Fellowships. 
Friedrich is currently a doctoral student in biomedical engineering at the Johns Hopkins University. Her research focuses on the use of microfluidic devices to study cell behavior and detect biomarkers in physiological media.
"My interest in research at a graduate level stems from my work at CCM and the undergraduate research program, which sparked my interest in micro- and nano-scale detection," she says. "It also made me much more interested in—and conscious of—materials selection, which is a very important consideration in biomedical applications. In addition, the undergraduate research program helped me gain skills that better prepared me to tackle research as a graduate student in any field."
Coppola, now a 2011-12 Roy J. Carver Fellow in aerospace engineering at the University of Illinois at Urbana Champaign, also credits CCM with helping to develop his interest in advanced materials.
"Working at CCM through undergraduate research and SAMPE really gave me a head start with my graduate research," Coppola says. "Also, the reputation of CCM has really stayed with me and given me an increased level of credibility as a composites scientist."
As further testament to UD's strength in composites, Coppola is advised by Scott White and is part of UIUC's Autonomous Materials Systems Group, which is co-led by White and Nancy Sottos, Donald B. Willett Professor of Engineering.  Sottos earned bachelor of science and Ph.D. degrees in mechanical engineering at UD in 1986 and 1991, respectively, and carried out her research at CCM. 
Coppola's work focuses on characterizing the effect of a vascular network on the mechanical properties of composites and optimizing design of the network to maximize delivery of a functional fluid.
Both Friedrich and Coppola completed senior theses under Thostenson's advisement, and as undergraduates, all three students were science and engineering scholars in UD's Undergraduate Research Program. 
"Zach, Sarah, and Tony are all great examples of students who as undergraduates took full advantage of the wonderful opportunities offered at the University of Delaware," says Thostenson. "From the broad-based Undergraduate Research Program to the interdisciplinary environment at CCM, students receive strong support in their development as students and researchers.  Mentoring students like them in my research group is one of the best parts of my job as a faculty member."
Melrose chose to stay at UD for his graduate studies, but he looks forward to the opportunity to spend short periods of time studying at other institutions or companies.
"I think UD is the best place to be for composites," he says, "but it will be good to get some additional experience elsewhere. I'm grateful to have that chance through the NDSEG Fellowship."
About the NDSEG Fellowship
The National Defense Science and Engineering Graduate (NDSEG) Fellowship is a highly competitive, portable fellowship that is awarded to U.S. citizens and nationals who intend to pursue a doctoral degree in one of fifteen supported disciplines. NDSEG confers high honors upon its recipients, and allows them to attend whichever U.S. institution they choose. NDSEG Fellowships last for three years and pay for full tuition and all mandatory fees, a monthly stipend, and up to $1,000 a year in medical insurance.
The Department of Defense is committed to increasing the number and quality of the nation's scientists and engineers, and toward this end has awarded approximately 3,200 NDSEG fellowships since the program's inception 22 years ago. The NDSEG Fellowship is sponsored by the Air Force Office of Scientific Research, the Army Research Office, the High Performance Computing Modernization Program, and the Office of Naval Research, under the direction of the director of Defense Research and Engineering.
Article by Diane Kukich
Photo by Evan Krape