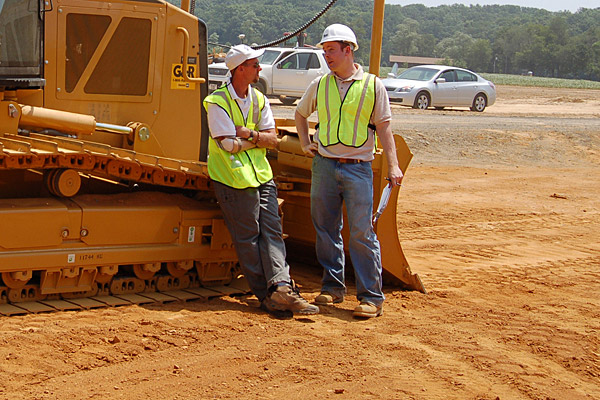 Reducing energy consumption
Fulbright scholar to study geothermal energy solutions in Finland
7:58 a.m., May 1, 2012--In most regions of the United States, one of the largest operating expenses for residential, commercial and institutional buildings is the cost of energy for heating and cooling.
According to U.S. Department of Energy estimates, this "built environment" accounts for about 40 percent of primary energy consumption, 72 percent of electricity and 55 percent of natural gas consumption, and significant heating oil and propane usage. 
Fulbright awards
Three University of Delaware students and an alumna have received word this spring that they will travel abroad as part of the newest class of Fulbright Student Program award winners.
Peace Corps plans
Two University of Delaware students, John McCarron and Bridgette Spritz, have been selected as Peace Corps volunteers and will serve in Ghana and Rwanda.
The University of Delaware's Christopher Meehan, assistant professor in the Department of Civil and Environmental Engineering, will investigate promising geothermal energy solutions to this problem as part of a 2012-13 Fulbright Scholarship at Tampere University of Technology in Finland.
Meehan said he selected Finland because while the energy consumption patterns are higher for Finnish industrial and construction industries, the country possesses a greater focus on renewable energy technologies than is typical in the U.S., particularly in its use of geothermal heat pump (GHP) systems.
Sometimes referred to as ground-source heat pumps, GHP systems use a "passive" geothermal approach to reduce heating and cooling costs. These systems rely on the fact that ground temperatures do not experience seasonal changes in temperature that are as significant as air temperatures. Typically, cooler earth temperatures are observed in the ground than in the air during the summer, and warmer temperatures are observed in the ground than in the air during the winter. By exchanging heat between these two systems, the energy consumption that is required for summer cooling and winter heating of nearby infrastructure can be reduced.
One of the only forms of renewable energy that is available on-demand, GHP's are site-specific and do not require additional electrical transmission infrastructure to deliver benefits to a given building or group of buildings. Two primary obstacles to widespread adoption of GHP technology by consumers are the relatively high "up-front" cost and a lack of consumer confidence in the technology.
Meehan plans to combine GHP technology with building foundation systems to reduce these up-front costs. Making use of building foundations, which are always installed in the ground, he intends to use the foundations as a means to exchange heat with the ground for cooling in the summer and for heating in the winter. If successful, the technology could lead to the construction of "heat-exchanging" foundations that will enhance a building's sustainability.
"Energy consumption is among the most significant problems facing humanity in the next century. It is imperative that civil engineers consider the direct and indirect costs associated with heating and cooling over the useful life of a structure as part of any sustainable building design," Meehan said.
"Large-scale deployment of GHPs would significantly reduce energy use and peak energy demand in buildings, which would allow for more effective implementation of on-site solar and wind power generation stations."
During his time in Finland, Meehan will develop a rational design approach for incorporating heat exchanging elements into shallow foundations, mat foundations, floor slabs and deep foundations, and a focused understanding of the complex thermo-hydro-mechanical interactions between heat-exchanging foundations and the surrounding soil. In addition, he plans to teach several courses at his host university and co-advise masters and doctoral students with mutual interests.
"Chris' work will help advance practical research products and sustainable foundation technology solutions that directly benefit civil engineering practitioners, while also contributing to the University's overall sustainability efforts," added Harry (Tripp) Shenton, III, professor and chair of civil and environmental engineering.
About Christopher Meehan
Meehan is an assistant professor in the Department of Civil and Environmental Engineering at the University of Delaware, specializing in geotechnical engineering (solving problems involving soils and rock). 
He joined the UD faculty in 2006, after earning his bachelor's degree at the University of New Hampshire and master's and doctoral degrees at Virginia Tech. 
In 2009, he received the National Science Foundation's prestigious Faculty Early Career Development Award to study the seismic behavior of slickensided surfaces. 
About the Fulbright Scholars program
The Fulbright Scholars program is the flagship international exchange program administered by the U.S. Department of State. The program enables 800 U.S. faculty and professionals to lecture and conduct research abroad each year. Awards are based on academic or professional achievement and leadership potential.
UD ranks among the nation's top tier of Fulbright Scholars producers, according to a 2010 report by the Institute of International Education (IIE) published in a special Fulbright section in the Chronicle of Higher Education.
Article by Karen B. Roberts