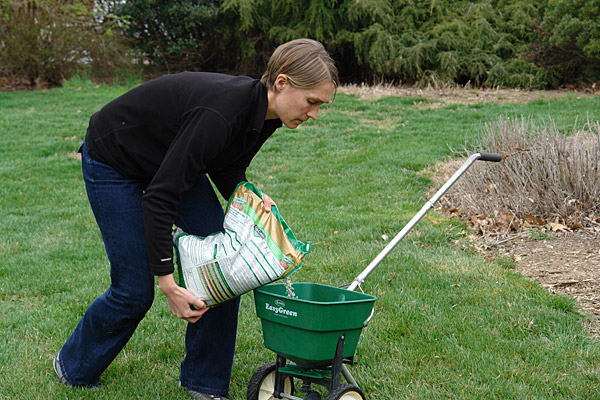 Lawn care
Livable Lawns program helps Delaware homeowners go green
8:03 a.m., May 15, 2012--You can't always believe what you read on the Internet. Case in point: Whether or not to fertilize your yard in the spring.
A recent search for "spring fertilizer" elicited these pronouncements:
From graduates, faculty
As it neared time for the processional to open the University of Delaware Commencement ceremonies, graduating students and faculty members shared their feelings about what the event means to them.
Doctoral hooding
It was a day of triumph, cheers and collective relief as more than 160 students from 21 nations participated in the University of Delaware's Doctoral Hooding Convocation held Friday morning on The Green.
• Spring lawn fertilizer is crucial for a lush lawn year-round.
• Spring fertilization is recommended as part of a complete lawn care program.
• Feeding your lawn in the spring strengthens roots and gets it off to a good start before the heavy growing season.
Don't believe it, says Valann Budischak, a horticultural associate with University of Delaware Cooperative Extension, who also serves as executive director of the Delaware Nursery and Landscape Association (DNLA). 
On the contrary, if you apply fertilizer in the spring -- especially late spring or early summer -- your lawn could look worse, not better, especially as the season progresses. 
"Most homeowners think they need to apply fertilizer in the spring. However, the best time to fertilize lawns is late summer and fall when grass plants put energy into root growth," says Budischak. 
"Early spring applications of nitrogen cause a surge of top growth in the plants. This makes the lawn look nice initially but it actually depletes the plants' energy reserves, which causes the grass to weaken and be less apt to survive periods of stress in the summer," she says. "Lush green lawns from late spring or early summer fertilization are more susceptible to disease problems as we enter the hot summer months."
A lot of homeowners are clueless about the best ways to take care of turf. That's why UD Cooperative Extension has joined forces with DNLA, the state Department of Resources and Environmental and Control (DNREC) and other partners to establish the Delaware Livable Lawns program. 
Funded by the state Department of Transportation, the program's goal isn't just to ensure you bragging rights to the best-looking lawn in the neighborhood.
"The health of Delaware's watersheds is impacted by what every homeowner does – or doesn't do – when they maintain their lawn and garden," notes Budishak. "We may think what we apply to our yards stays within the boundaries of our property but runoff from fertilizers and pesticides can have a big impact on local streams, creeks, lakes and rivers."
In fact, the Environmental Protection Agency (EPA) considers stormwater runoff from yards, streets and parking lots to be one of the most significant sources of contamination of the nation's waterways.
Sara Wozniak, regional watershed coordinator for DNREC, was motivated to create the Livable Lawns initiative after she learned of a similar effort, the Chesapeake Club, which is based in the Hamptons Roads area of Virginia and works to protect the Chesapeake Bay. 
"I always joke that Livable Lawns was created for me so that I would know what to do to my own lawn," says Wozniak. "The truth is that before working on this program, I was a typical homeowner who didn't know much about caring for my own lawn."
"At this point, my friends and relatives have all heard Livable Lawns key questions such as: Have you had a soil test? Do you leave your grass clippings on your lawn after you mow? Do you fertilize in fall?" she says. 
Give yourself a gold star if you answered yes to all three. These practices not only promote a good-looking lawn but are good for the environment.
Livable Lawns educates industry professionals as well as homeowners. Thus far, Finocchiaro Landscape Company in Wilmington and R and L Irrigation Services of Seaford have been certified by the program, as well as suppliers Delaware Seed and Garden Supply in Wilmington and Tri State Turf Supply in Newark. Additional companies are going through the certification process this year.
Such certification is voluntary in Delaware but nearby states, including New Jersey, Maryland and Virginia, have enacted fertilization laws. New Jersey has the most restrictive fertilizer content standards in the nation for nitrogen and phosphorous. 
"Livable Lawns is designed to encourage voluntary involvement by both commercial applicators and homeowners," notes Budishak. "It recognizes those companies that have chosen to become certified.  The bottom line is the program aims to ensure that the right quantities of the right product are applied at the right time and in the appropriate manner."
Fore more information about the Livable Lawns program go to the website.
Article by Margo McDonough
Image courtesy of Sara Wozniak, DNREC