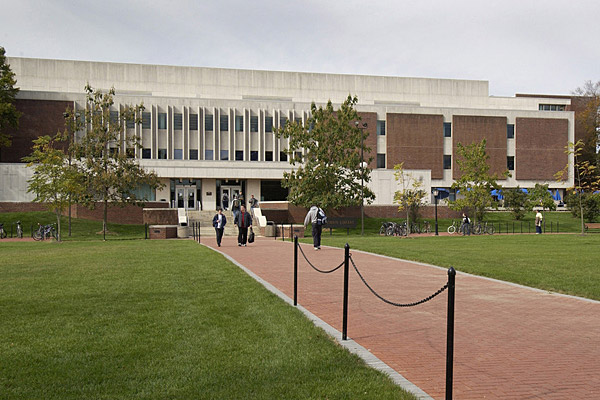 Library partnerships
UD Library partnerships enable use of other research libraries
2:38 p.m., May 17, 2012--The University of Delaware Library is a member of two partnerships that enable access to more than 120 research library collections. The two partnerships are the OCLC (Online Computer Library Center) SHARES program and the OCLC Reciprocal Faculty Borrowing Program.
OCLC SHARES: The SHARES partnership comprises over 120 major academic, research and museum libraries throughout the United States and abroad. Current UD faculty and students with a valid UD ID card may visit any SHARES library, including those not normally open to the public, to view collections and use reference services on site. 
June 6: UDid It! Picnic
All UD faculty and staff members are invited to attend the annual UDid It! employee appreciation picnic, set from 11 a.m.-1:30 p.m., Monday, June 6, on The Green.
2FA protects you
If you are using two-factor authentication (2FA), even if a hacker has your password, your information is probably safe.
SHARES access does not include borrowing privileges. For information about hours of operation and planned closures, users may contact a library's SHARES liaison included in the list of participating libraries below before planning a visit.
The list of participating SHARES libraries is available at this website.
One of the SHARES libraries is the University of Pennsylvania Van Pelt Library.
Faculty and students with questions about the SHARES program can contact Megan Gaffney, coordinator, Interlibrary Loan and Document Delivery Services, at 302-831-6980 or gaffneym@udel.edu.
OCLC Reciprocal Faculty Borrowing Program: The University of Delaware Library also participates in a second partnership called the OCLC Reciprocal Faculty Borrowing Program, which provides the capability for faculty members of participating institutions to have library borrowing privileges and/or on-site access to the collections of some of the most important research libraries in North America. More than 180 institutions participate in the program. 
Materials may be used on the premises of the owning library or may be borrowed, depending on the policies of the lending library. Privileges vary from institution to institution. The lending library determines whether the card will be accepted for on-site use and/or borrowing.  
The list of participating Reciprocal Faculty Borrowing Program Libraries is online.
Any faculty member who is interested in obtaining a Reciprocal Faculty Borrowing Card should contact Nora Bonsall, executive secretary, Office of the Vice Provost, at 302-831-2231 or nora@udel.edu. Reciprocal Faculty Borrowing Cards are issued for a period of one year, are not transferable and are available only to full-time continuing University of Delaware faculty.