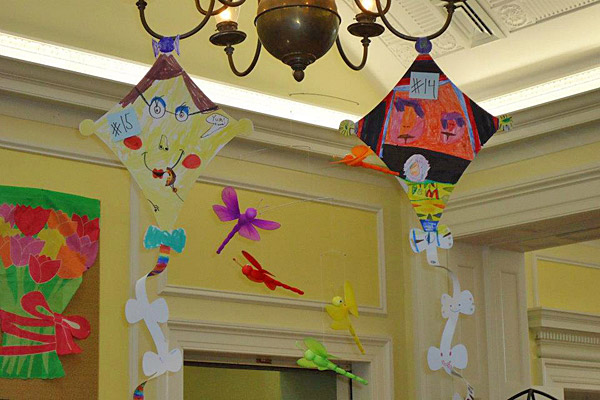 'Picnic' in Kent
Dining Services, College School hold Picnic in Park at Kent Dining Hall
1:25 p.m., May 10, 2012--Vibrant colors filled the University of Delaware's Kent Dining Hall on Wednesday during a Picnic in the Park themed lunch. 
Students from UD's The College School provided brilliantly decorated kites that soared from the ceilings and the tails of which fluttered off the walls, creating an outdoor atmosphere within the dining facility.
From graduates, faculty
As it neared time for the processional to open the University of Delaware Commencement ceremonies, graduating students and faculty members shared their feelings about what the event means to them.
Doctoral hooding
It was a day of triumph, cheers and collective relief as more than 160 students from 21 nations participated in the University of Delaware's Doctoral Hooding Convocation held Friday morning on The Green.
A representative said UD Dining Services was "thrilled and enthused with the opportunity to work with The College School on this event and are thankful to all the students who provided their creative talents and took the time to decorate a kite."
The College School is UD's specialized laboratory school within the College of Education and Human Development that provides an ideal learning environment to students in grades 1-8.
The kites will be on display at Kent until Friday, May 11. Those who cannot make it to Kent Dining Hall to see the decorations in person can visit the Dining Services Facebook page for photos of the kites and the Picnic in the Park lunch.