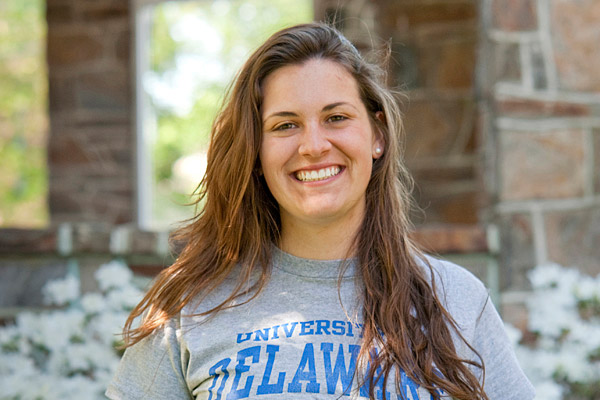 Teaching in Turkey
Melms awarded Fulbright teaching assistantship
4:26 p.m., May 17, 2012--University of Delaware alumna Liza Melms has been awarded the Fulbright English Teaching Assistantship (ETA) for Turkey for the 2012-13 academic year. The initial grant is to help teach conversational English to students in new universities in eastern Turkey.
Unlike most Fulbright grants, which are research focused, this one is strictly for teaching English. 
Fulbright awards
Three University of Delaware students and an alumna have received word this spring that they will travel abroad as part of the newest class of Fulbright Student Program award winners.
Peace Corps plans
Two University of Delaware students, John McCarron and Bridgette Spritz, have been selected as Peace Corps volunteers and will serve in Ghana and Rwanda.
Melms, who received an Honors bachelor of arts in international relations from UD in 2011, currently is in Amman, Jordan, and said she was very excited about the opportunity to teach in Turkey. 
"Through my four years at UD I took courses in a variety of disciplines from steel drums to the United Nations, but I never once took a class on education. Yet, immediately after graduation, I moved to Tanzania to home-school two boys for five months, and I completely fell in love with it.
"For whatever reason, I have found international education an amazing way to learn about different cultures and see the world," Melms says. 
An ETA places a Fulbrighter in a classroom abroad to provide assistance to teachers of English to non-native English-speakers. English Teaching Assistants help teach English language while serving as a cultural ambassador for U.S. culture. The age and academic level of classroom students varies by country, ranging from kindergarten to university level.
"Fulbright's English Teaching Assistantship provides graduates who do not have a research agenda with the opportunity to act as cultural ambassadors in a different capacity, namely in school and university classrooms, interacting with children, youth, and student-age peers. I suspect that the Fulbright English Teaching Assistants learn at least as much from their young charges as the students do from their native-speaker mentors," says Lisa Chieffo, associate director of student programs at the Institute for Global Studies (IGS) and assistant professor of foreign languages and literatures. 
Melms's mentor, Patricia Sloane-White, director of Islamic studies and assistant professor of anthropology, talks very highly of her student, noting that she is not only a very level-headed student but also interested in other cultures. 
"Liza's Plastino project on Muslim women's piety and the hejab demonstrated to us that she could go anywhere in the world and find herself welcome and well-liked, and there is no question in my mind that this is exactly what stood out in her Fulbright application."
Melms, who studied abroad in Turkey during the Winter Session of 2008, fell in love with the country and its culture. 
"It made me change my major to international relations with a focus on the Middle East and Islamic studies, it served as the inspiration for my undergraduate senior thesis on Muslim women and the headscarf, and most recently it has given me the desire to return and work there," Melms says. 
Her excitement and gratitude come through in these words: 'I cannot wait for the coming academic year, and am so thankful for all of the support UD has given me between IGS and my campus mentors."
Turkey has a secular, democratic government with a 98 percent Muslim population. 
For more information on the ETA in Turkey, visit this website.
Article by Fariba Amini
Photo by Kathy F. Atkinson