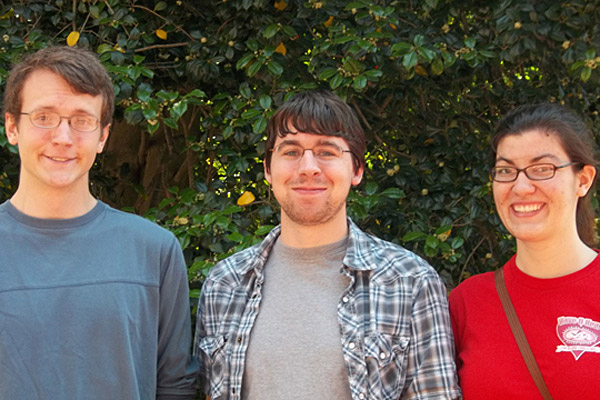 For the Record, May 25, 2012
Faculty and staff announce recent presentations, publications
1:14 p.m., May 25, 2012--For the Record provides information about recent professional activities of University of Delaware faculty, staff, students and alumni.
Recent honors, presentations, press, publications and service include the following:
From graduates, faculty
As it neared time for the processional to open the University of Delaware Commencement ceremonies, graduating students and faculty members shared their feelings about what the event means to them.
Doctoral hooding
It was a day of triumph, cheers and collective relief as more than 160 students from 21 nations participated in the University of Delaware's Doctoral Hooding Convocation held Friday morning on The Green.
Honors
Cathy Matson, professor of history, has been appointed to one of three positions on the executive council of the McNeil Center for Early American Studies in Philadelphia. She also continues as a member of the advisory council of the center, and will continue for another term as a member of the editorial board of Early American Studies, the peer-reviewed journal that is associated with the McNeil Center.
Marc Paulo Q. Guzman, a UD alumnus and master's degree student in the counseling in higher education program in the College of Education and Human Development, has been selected to receive a graduate student regional conference scholarship from the National Academic Advising Association. The scholarship waives the registration fee to a regional conference, where Guzman will explore advisement and retention. 
Nicole Wells, David Koeplinger and Curtis Kisielius, students in the Department of Electrical and Computer Engineering, have been named recipients of $1,000 scholarship awards from the Association of Old Crows (AOC) Aberdeen Proving Ground, Susquehanna Chapter. AOC is an electronic warfare and information operations association. Wells is a junior electrical engineering student with a 4.0 grade point average and a member of the National Honor Society, Eta Kappa Nu and Tau Beta Pi. Koeplinger is an electrical engineering junior with a 3.97 GPA and a member of the Eta Kappa Nu Electrical and Computer Engineering Honor Society and Tau Beta Pi Engineering Honor Society. Kisielius, a computer engineering junior with a 3.9 GPA, is a member of the Tau Beta Pi and Eta Kappa Nu.
Presentations
Carla Guerrón Montero, associate professor of anthropology, presented the paper "Constructing Plural Citizenship from the Margins in Northeastern Brazil" at the XXXIV International Americanistic Studies Congress in Perugia, Italy, May 3-10. The congress was organized by the Centro Studi Americanistici "Circolo Amerindiano."
Press
Charles H. (Chip) Fletcher, UD alumnus and professor and associate dean in the School of Ocean and Earth Science and Technology at the University of Hawaii at Manoa, was featured in a May 14 New York Times article on the Pacific state's eroding beaches. Fletcher received a doctorate in geology from UD in 1986.
Publications
Elizabeth Soslau, assistant professor of education, "Opportunities to Develop Adaptive Teaching Expertise During Supervisory Conferences," Teaching and Teacher Education 28(5), 768-779. 
Service
Joshua M. Duke, professor of food and resource economics, has been selected the new president-elect for the Northeastern Agricultural and Resource Economics Association. Duke will serve a three-year term beginning in June. Duke has served the association in a variety of roles, including board member and journal editor.
Cathy Matson, professor of history, recently attended executive council meetings of the Omohundro Institute in Williamsburg, Va., from May 4-6. This council serves as the major governing and deliberating board of scholars and professionals who oversee the development of fellowships, public programs, and publications of the Institute, a central focus of scholarship on the early modern Atlantic world. Matson also recently served on the prize committee of the William and Mary Quarterly, the most important journal in North America that publishes scholarship on the 17th and 18th centuries, across disciplines.
To submit information to be included in For the Record, write to ud-ocm@udel.edu.