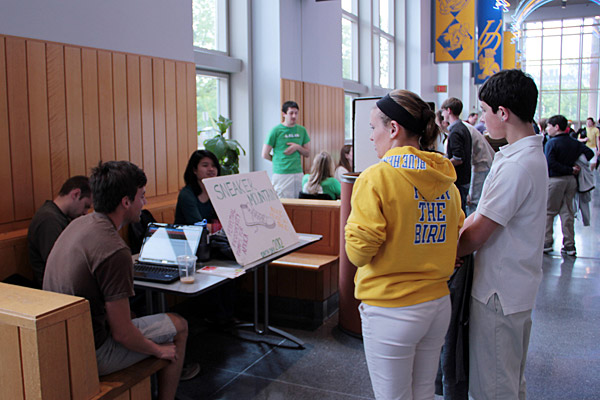 Earth Week 2012
Sustainability Task Force sees Earth Week success, welcomes suggestions
10:20 a.m., May 9, 2012--Despite unpredictable spring weather, Earth Week 2012 at the University of Delaware went off without a hitch, according to organizers. Yoga on the Green became Yoga in Perkins Student Center while the Race to Give Back' became a race to get out of the rain, but robust attendance was observed at many events.
Along with a book talk and multiple film screenings, participants had the opportunity to donate shoes through the Graduate Student Senate, swap clothes through Students for the Environment, and buy bicycles through the Newark Bike Project. 
From graduates, faculty
As it neared time for the processional to open the University of Delaware Commencement ceremonies, graduating students and faculty members shared their feelings about what the event means to them.
Doctoral hooding
It was a day of triumph, cheers and collective relief as more than 160 students from 21 nations participated in the University of Delaware's Doctoral Hooding Convocation held Friday morning on The Green.
The University Student Centers also hosted an Earth Week trivia night, while Students for the Environment brought Tweed, Toothpick, and the Racket Boys to the Scrounge for the annual Earth Week Concert.
The UD Sustainability Task Force, which coordinates and sponsors Earth Week each year, also held an energy competition dubbed Dare to Unplug on Friday, April 20. The UD community was encouraged to reduce energy usage from 1-5 p.m. by unplugging everything in residences and offices.
UD Facilities monitored energy usage on Laird campus during this interval and found that residents saved 113 kWh during Dare to Unplug, compared with activity one week prior. Residents of James Smith Hall and George Read North both reduced their overall energy usage by 10 percent.
The Sustainability Task Force wants to hear ideas for Earth Week 2013 events. Email the team at ud-sustainability@udel.edu to submit thoughts.
Members of the campus community are encouraged to mark their calendars for two other sustainability-minded events coming up this fall -- Campus Sustainability Day on Oct. 24 and the second annual Regional Sustainability Institute on Nov. 2. Details on these events and more can be found at the task force website.
Article and photo by Casey Impagliazzo